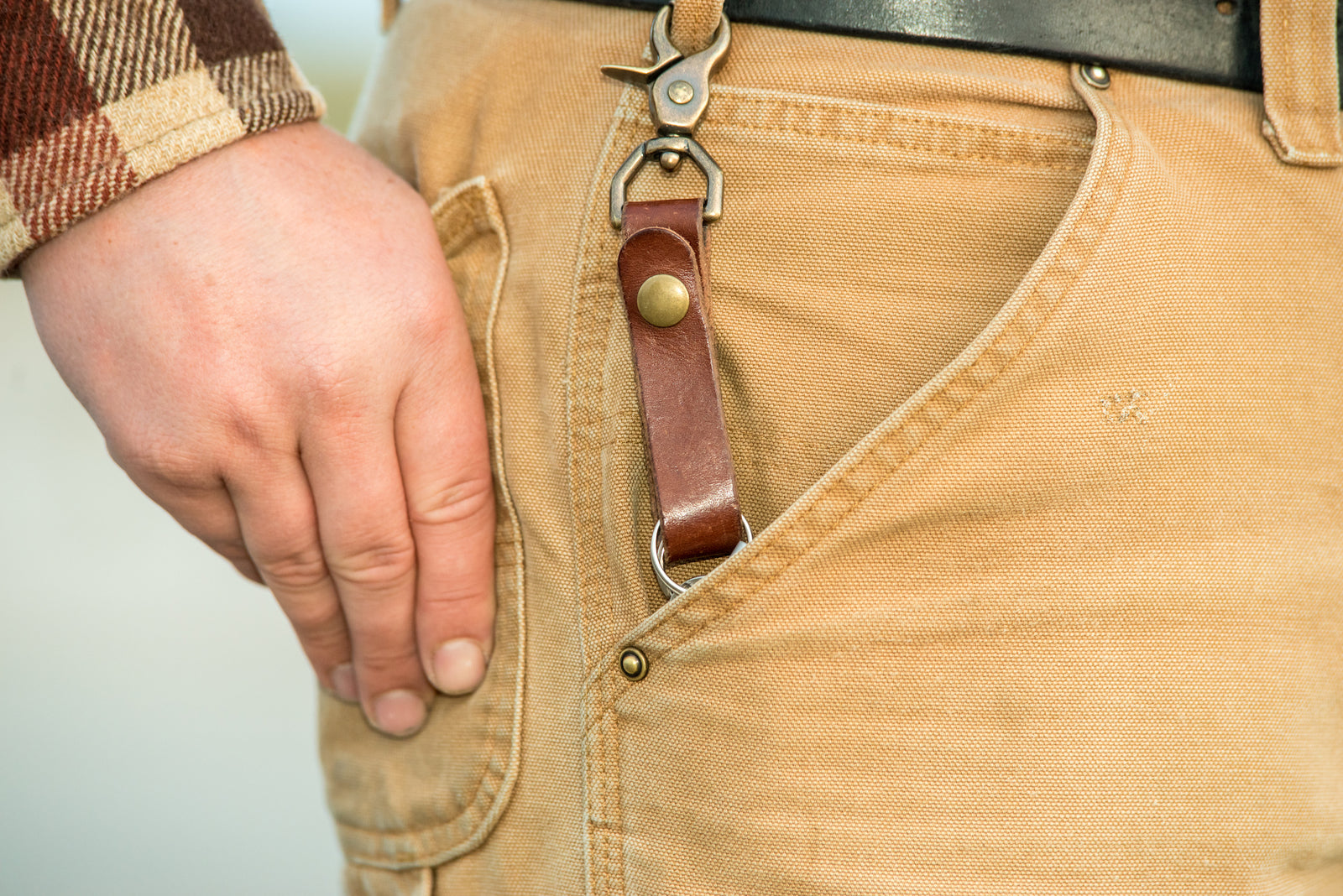 Always be prepared with the newest addition to the Walnut family: the dual-functional leather 
Keychain Lanyard
, housed in our new
Everyday Carry (EDC) Collection
. 
The Keychain Lanyard:
Our Keychain Lanyard is your everyday carry solution for keys and small tools. It's built from tough and handsome dark brown veg-tan bridle leather and sturdy, high quality antique brass hardware for classic style.
We most love the dual functionality of the design, which has two attachment points - the snap and the swivel clasp - allowing you to adapt the lanyard to whatever you may be wearing or carrying, whether it's on your jeans or attached to a pack.
The lanyard is just the right length for hiding your keys and tools in your pocket when attached to your waist, whether it's attached to your belt loop with the swivel or to your belt with the snap.  The snap is secure and can handle a lot of weight, and the swivel clasp is the nicest one we could find, made of solid brass with a smooth spring and a sturdy trigger action that stays closed even in action. The
Keychain Lanyard
can be monogrammed with up to 3 characters, stamping it as yours entirely, or personalizing it for the perfect gift.
Backstory:
Originally inspired by one of our 20 DIY leathercrafting projects in the 
IG: Leather Crafts
book, and introduced as our 2016 Cyber Monday freebie, we're pleased as punch to bring this super-useful, everyday treasure to life. Since making it for Cyber Monday, we carried it on our keychains all year long, and now we can't live without ours.
Check out our Keychain Lanyard! 
The Everyday Carry (EDC) Collection:
What is the
Everyday Carry (EDC)
movement? Introduced to us by our careful and conscientious designer-friend Kevin (check out his work on Etsy as
RutsuDesigns
), it's nothing less than the careful attention paid to making sure that those few, critical items - the ones you always check your pockets for before you leave the house - are beautiful, durable, multi-functional, and exquisitely selected and cherished. Our EDC collection is a round-up of some of our most pocket-friendly, intimate small pieces perfect for everyday use.
Check out our Everyday Carry collection!