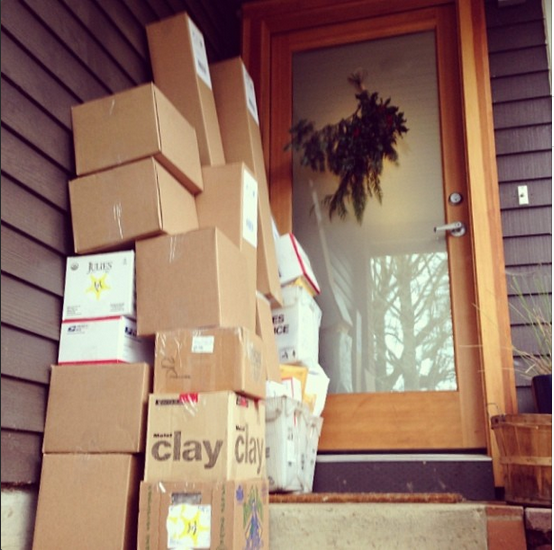 It's taken some serious behind-the-scenes logistics research, but we've figured out some new ways to improve our shipping options on both our Etsy site and our website.
On
our website
:
Our new "real-time" shipping calculator will give you the most accurate shipping estimates on all the services offered by USPS, FedEx, and UPS - for both USA and international!
"International Checkout with GlobalShopEx" lets you estimate duties and taxes, and choose their shipping for a hard-to-find-balance of cost and speed. Most of the USPS, FedEx, UPS, and DHL service options were either inexpensive but unbelievably slow and somewhat unreliable, or super-fast and super-expensive, with little choice in between. GlobalShopEx's service is right in between, reasonably priced, with a reasonable turnaround time. And with the GlobalShopEx option, you can even pre-pay the taxes and duties for fuss-free delivery - GlobalShopEx guarantees the assessment.
DHL shipments are on hold while we figure out what to do about their technological differences.
We can now ship to over 200 countries around the world - and we have already shipped to 45! If you're in Brazil or Russia, we highly recommend you use the GlobalShopEx service, we've experienced some problems shipping to those two countries in particular.
Read more on our shipping options and policies on our revamped Customer Service page.
On
our Etsy store
:
Etsy now lets us offer more than one shipping option - hooray! Thank you, Etsy!
On our Etsy store, you can now choose to ship your packages with standard post, or expedited with USPS Priority Mail, or fastest expedited with USPS Express Mail.
This goes for both domestic AND international shipments!
Keep in mind that in our Etsy shop, Etsy still calculates shipping by the number of items in your order, not by the weight. So, if you're ordering lots of little things (like a set of drawer pulls), you'll likely get a better shipping rate on our website, http://walnutstudiolo.com