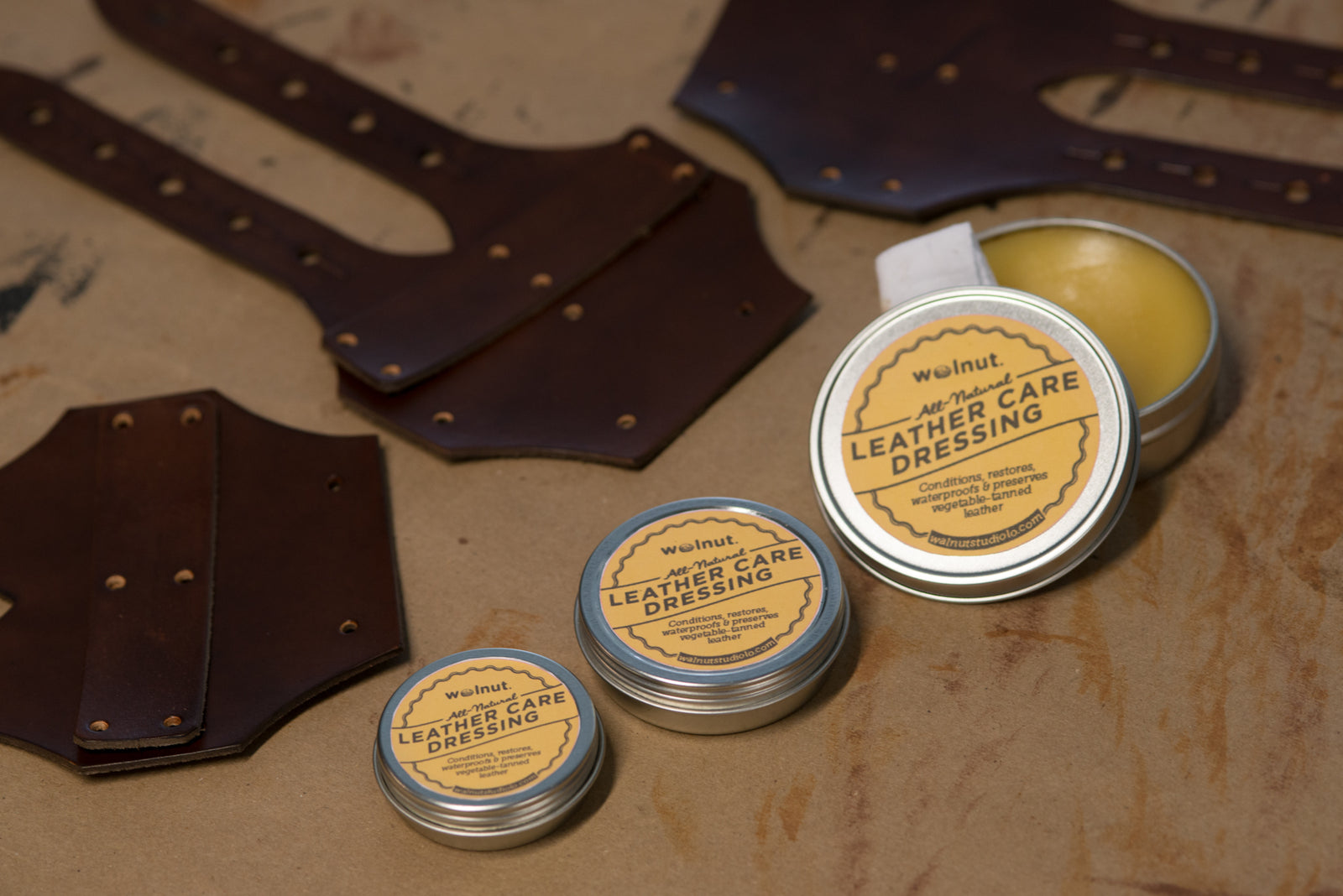 Our
Leather Care Dressing
is carefully formulated for the needs of the vegetable tanned leather we use in our products. We like working with leather because it's a material that can last for generations to come, and it has such a special feel about it.
The rigors of everyday use can take a toll on even the best leather. Repeated handling can dull the material, and harsh wind, rain and sun can start to damage the surface of leather. But with a little TLC every once in a while, it's easy to keep the leather well protected. Our Leather Care Dressing is perfect for the job, and it comes in various tin sizes.
"I have tried a lot of different leather conditioners and this is by far my favorite. Easy to apply, with ingredients that I can pronounce. It's great!"
- Mary M.
As it turns out, our Leather Care Dressing is not only good for our own vegetable tanned leather goods, there are many other uses for it as well. Next time you're buying a tin of our house-crafted Leather Care Dressing, consider the largest size - then have a weekend party to treat a variety of your household items.
Here are 5 handy uses for our Leather Care Dressing.
Refresh your

wooden spoons, spatulas and kitchen utensils.

Clean and thoroughly scrub your items. Soak in a light bleach or vinegar solution for an hour. Rinse well, towel dry and allow to dry out before

conditioning

.

Apply a few coats to

leather furniture that has been scratched

by animals to help mask or remove the scratches. Though the scratches won't magically disappear, the dressing will help mask the presence of scuffs.

Clean up your

wooden or bamboo cutting boards

. Clean and thoroughly scrub all sizes of your cutting boards. Soak in a light bleach solution for an hour. Rinse well, towel dry and allow to dry out before

conditioning

.

Treat leather gloves. Work the dressing into the leather to refresh, renew and preserve your leather work gloves. It works well on both work gloves and fine gloves.

Soften hard-working hands

. As you are conditioning your home products, treat your hands to some Leather Care Dressing along the way.
A Conditioning Party
We think conditioning your items should be a fun ritual! Load up some podcasts, audio books, movies or shows. Invite friends over. Make it a potluck.
Bring out all the items you want to condition, clear your work surfaces and lay down some newspaper or an old sheet. First clean your items genthly to ensure there is no dust or debris on the surface. This is a good time to check over your items, admire them and show them off to the others who have joined your party.
Enjoy the process! Take your time massaging in the conditioner while catching up with your friends.
What Our Customers Say
We've long enjoyed using this luscious (but not greasy) dressing ourselves, and it turns out our customers love it, too. Here's what a few of them have to say.
"This leather conditioner is awesome. My very vintage full grain vegetable-tanned leather luggage has sat on many a tarmac in the rain and has suffered lots of abuse without any TLC. It's tough as nails and I don't mind the stains, but the leather itself was starting to look sad and stiff. Now it looks well loved again. Thank you! I applied it to the leather with my bare fingers and let it soak into my nails. You know, this stuff has some great properties which seem beneficial for dry cuticles and overworked hands too!"
- Lulu, Chattanooga, Tennessee
"Your leather care dressing conditions our newer leather, restores our old heirloom leather pieces and waterproofs them which is a must as we travel thru the rainforests of our region. Nothing synthetic in it which I appreciate greatly. Leather is very special to us and only the best will touch our leather pieces. New and old pieces are cherished and your dressing provides them with the care and aloha that they deserve!"
-J.O. From the Big Island of Hawaii
Learn More about Leather Care
Learn more about leather care on our website.