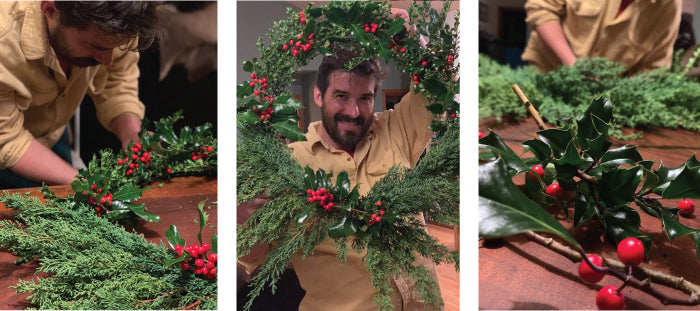 These holiday wreaths are so easy to do, and so inexpensive, we had to share a quick tutorial. Making a wreath is just like making a flower arrangement: although there is a creative feeling of art to making one, there is no wrong way to do it. So have fun and make it a festive crafternoon!
Forage
Prune (with permission of course) bows and branches from evergreen plants. Cut them at least as long as the diameter of your wreath frame, 18" - 24". Spruce, juniper, box, and holly are all classic.
Gather Tools
Gather your tools: sturdy gloves, a spool of thin green floral wire, metal wreath frame (which can be used again every year), and either sturdy scissors or wire cutters.
(Want to make it even easier? Forget the frame, just gather the branches like a bouquet and wrap the ends together. Hang it upside down and call it a swag!)
Wrap
Put your gloves on, position your first branch on the wreath frame and start wrapping wire around both branch and frame. There really is no wrong way to do this.
Layer
I like to first wrap a base layer of an all-green branch, like juniper or box, first, and then wrap a second layer on top with more visual interest, like holly with berries. You could also wrap on pinecones or crafty things like Christmas ornaments.
Admire!
Admire your work when done and hang it on the front door! (And if you're not happy with it, don't worry about it - just unwrap the wire and start again until you're happy).
---