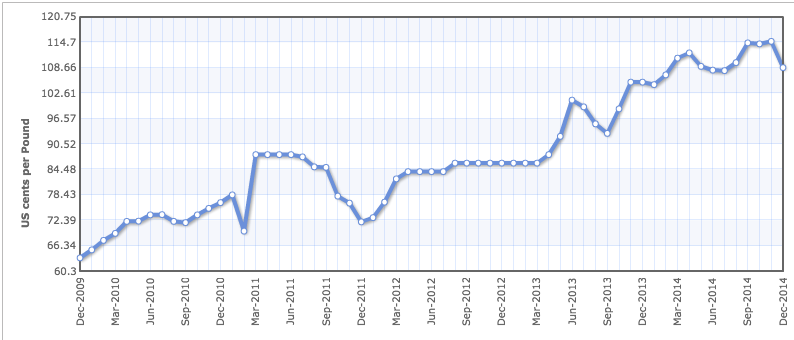 This is that time of year when we (Geoff and Val) put our heads together, and spend all day on New Year's Day crunching numbers and debating our product list over endless cups of coffee and satsuma peels.
It's really hard to discontinue a product. Each one of them is a baby you see so much potential in...but alas, we have limited storage and we need to make room for new products, too. So, it is with mixed feelings that we're discontinuing the
Braided Bar Wraps
and
Business Card Case
this year. There's only a few left, so get 'em while you can!
Although of course some price increases are inevitable as the cost of leather increases each year*, our goal each year is to improve the data we're inputting on our labor times, overhead, and material costs, and try out acceptable shortcuts and new tools that won't harm quality, all so we can look for opportunities to reduce our prices.
The result this year is that most of our 2015 prices will be the same as 2014, although - same as with past years - some of our prices have increased, and some we were able to decrease! All the new pricing is live on our
website
and Etsy store now.
*Fun fact: did you know that leather is a traded commodity? This chart shows the cost of leather since we went into business in 2009:
Leather prices have been rising every year!