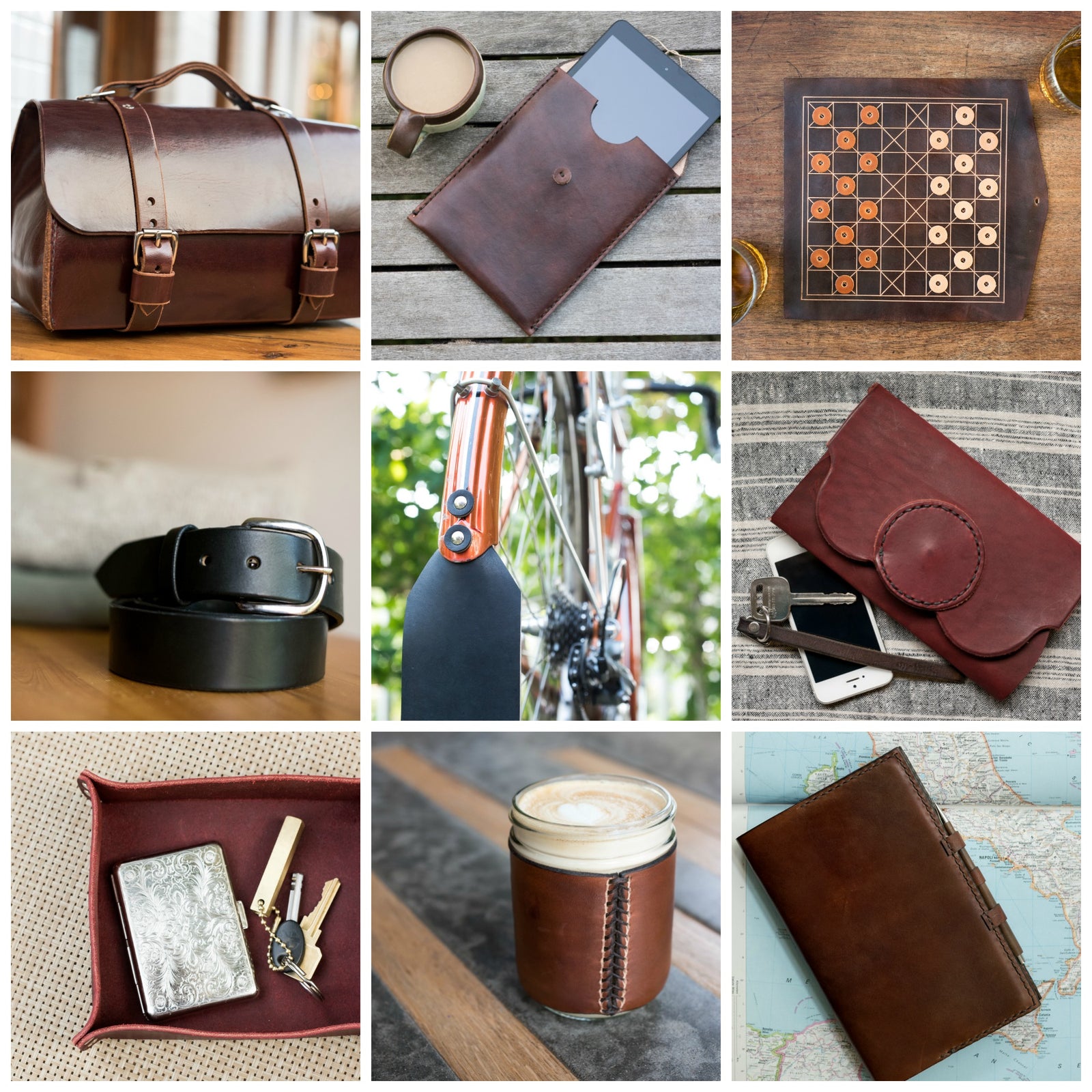 7/17/16 Update: Looking for the templates for Idiot's Guide: Leather Crafts? Due to technical difficulties, Walnut Studiolo is hosting them on our website here:
https://walnutstudiolo.com/pages/ig-leather-crafts-templates
Curious about leather crafting? Let us teach you how to create your own gorgeous leather projects with our glossy new leathercrafting book, published by DK Publishing as the newest addition to their how-to book series, Idiot's Guide: Leather Crafts, on June 14th.
Back Story
Last fall, Walnut Studiolo owners Geoffrey and Valerie Franklin were approached by Alpha Books, a member of DK Publishing and the Penguin Group, to write a how-to guide. Over the following months, Geoff created 20 projects and 34 accompanying techniques, which Valerie wrote into step-by-step instructions. We also researched and wrote a primer to leather crafts, covering tools and material purchasing. Every step is accompanied with crisp photography by our favorite photographer,
Erin Berzel
. DK Publishing and the Idiot's Guide series were a perfect partner for Walnut Studiolo's leathercrafting expertise. We have always admired the quality and quantity of imagery and photography used in DK books, and the how-to book know-how of the Idiot's Guide series was a neat and clean fit for our long-time desire to write a beginner's book on leathercrafting. The editing and design team was a delight to work with, and it ensured that this book was finished professionally. We arranged the projects in order of difficulty, with beginner, intermediate, and advanced projects, such that each successive project builds on the techniques explored in the previous projects. If you like Walnut Studiolo's sense of design, you'll love poring through these pages! The 20 projects include modified versions of Walnut Studiolo favorites (including a 
Bicycle Mud Flap
and
Drink Coasters
), modern hipster goods (like a Mason Jar Sleeve and Leather Valet), and outstanding bag designs, including a convertible Tote Backpack and a lush Lineman's Bag. We wrote this book, wishing we'd had it when we got started. There is very little on the market to help modern leathercrafters make clean-lined projects, and we were entirely self-taught. Using this book as a launching point, Walnut Studiolo plans to explore sharing its expertise in leathercraft with in-person classes and demos and book-related project kits.
Official Book Summary from the Publisher
Part of the artisanal/DIY movement is about authenticity and quality, with a return to simplicity, real values, genuine materials, and careful craftsmanship. Leather is one of those authentic materials, and while it has always been used for handbags and gloves, it's enjoying a resurgence in the field of crafts.
Idiot's Guides: Leather Crafts
offers 20 projects (illustrated with copious step-by-step photos), ranging from beginner to advanced, each one building on the skills that have been taught in prior projects. Unlike most existing books on leathercraft, which come with a heavy whiff of the €˜70s, this one has a sleek, modern aesthetic. The projects are functional, and the minimal, elegant embellishment and natural finishes will keep them timeless.
The book includes:
Tips on selecting and purchasing the right leather for your project.

A primer on tools, hardware, and other materials you'll need before you start.  

Easy-to-follow lessons on cutting, punching, finishing, and stitching.

20 unique and functional projects, including a bookmark, bracelet, wine tote, backpack, and more.
Idiot's Guide: Leather Crafts 
is available at major booksellers online and in-store and booksellers that carry the Idiot's Guide series nationwide. Copies signed by the authors are also available on Walnut Studiolo's website at the cover price of $19.95 at
http://walnutstudiolo.com
. ISBN #9781615648955
Resources
Idiot's Guide: Leather Crafts Book Sell Sheet
The Idiot's Guide Series