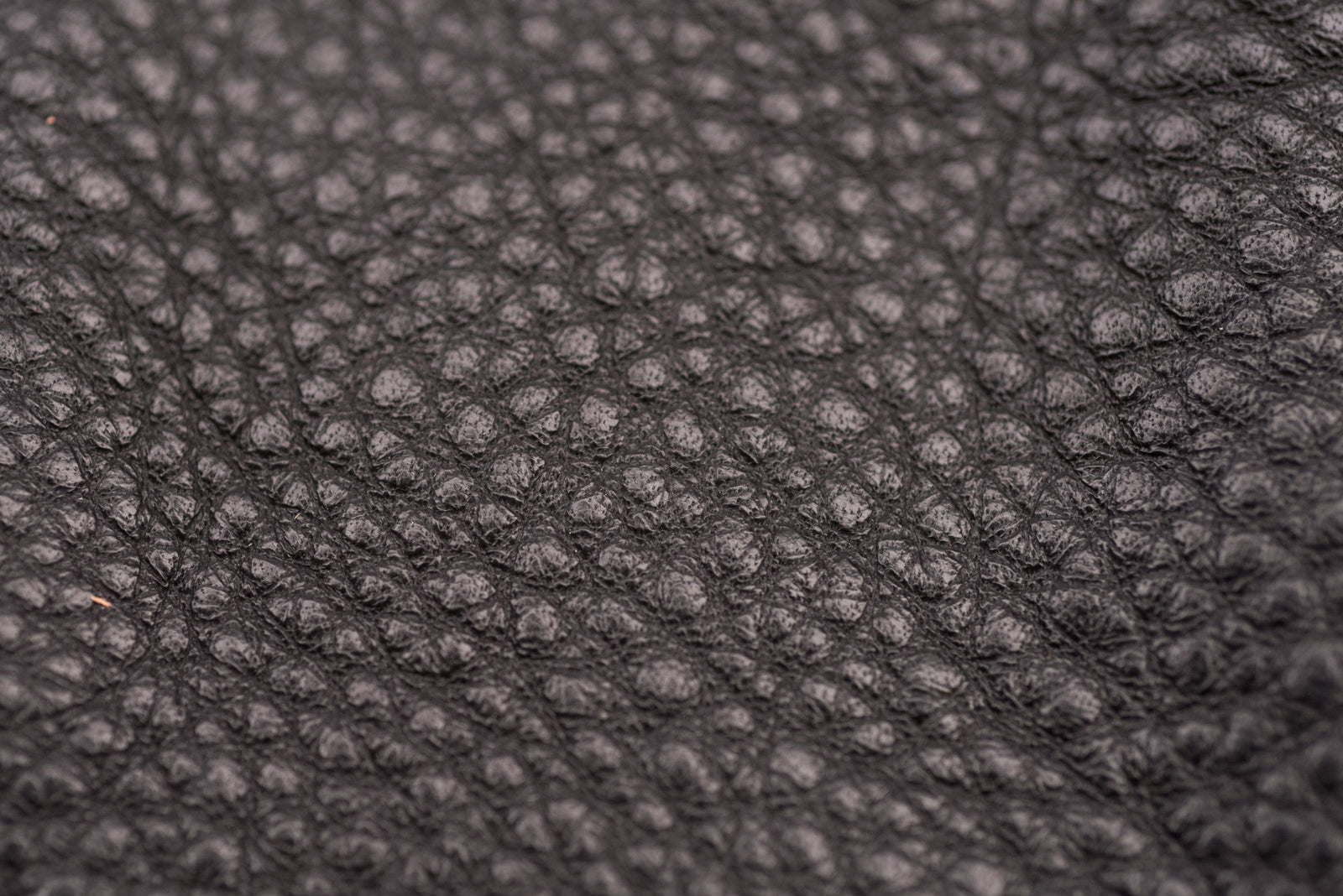 In this post we'll do an overview of the various kinds of animal leathers and leather alternatives before we focus on the one we use, cowhide.
Leather comes in all kinds of varieties, but it starts with the animal or substance. Typical leather is the dermis of a large herbivore animal that is raised for its meat, such as cows, sheep, or goats. Some hides are commonly left hair-on, such as sheepskins.
There are other kinds of animals, and there are also leather-based materials like bonded leather (more on that later). Increasingly, there are also leather alternatives, such as artificial leather made from plastics and even new leathers being made from vegetables. Here's an overview:
Typical Animal Leather
The typical leathers one thinks of come from animals - usually herbivores - that are domesticated or raised for their meat. Thus, the hide is a byproduct of the meat industry, and the animals are not raised for their leather. These primarily include the big 4: cowhide of course (67% of leather produced globally) , but also sheepskin (13%), goatskin (12%), and pigskin (7%).
In some countries and cultures, kangaroo, ostrich, and horse hide make up a large portion of leather production and are considered typical. The most common kind of hide - cowhide - has the most variations in kinds of leather. Cowhide can be as far-ranging as a completely natural material, like a piece of rawhide used as a chewtoy or drum head, to a completely processed material, for example: a sanded cowhide dust, glued together with rubbers and plastics onto a fabric backing, imprinted with an artificial exotic animal grain to look like another animal, and finished with a plastic purple paint.
Exotic Animal and Fish Leather
Exotic leathers are typically understood as animals raised in captivity solely for their hides or fur because of the unique texture or cachet, such as snakeskin, but "exotic" leather is a term also used for the less than 1% of leather that is produced globally by any of dozens of species not in the big 4 listed above.
There are over 50 animals globally that are used in leather production, and some of these less commonly-tanned include other domestic herbivores and animals hunted or raised for food production: such as deerskin, alpaca hides, crocodile skin, and even fish leather. Fish leather is a traditional craft in Scandinavia but it is also being recently produced in Alaska as salmon leather.
These leathers are expensive and rare, and often come in small or unique shapes, so they tend to be used in physically small product applications like wallets and jewelry, where they can be cut into tiny pieces for maximum use.
Plastic and Artificial Leather
One of the first artificial leathers was produced in Germany as Presstoff in the 19th century and was made of paper pulp!
But starting in the 1960s, the bulk of artificial leathers have been made from petroleum-based plastics (PVC, polyurethane, and acrylic) that coat a fabric backing. These plastic leathers are known under many names, some of which are brand names: Naugahyde, leatherette, "vegan leather", pleather, faux leather, synthetic leather.
They are most often used in clothing, accessories and upholstery, which need large expanses of material.
Alternative Plant-Based Leathers
In recent years we have been seeing the creation of vegetable-based faux leathers, often made from waste products, such as agave fiber, recycled rubber, tomatoes, pineapple fibers, and coconut fibers, many of which rely on adhesives and glues to provide structure. One new company is developing hemp leather that will reportedly avoid using toxic glues.
Mushroom leather technologies are both ancient and new. Amadou is a mushroom that has been a traditional craft leather-like material from Transylvania. Amadou is used in small pieces as a leather-like material in hats, whereas new companies like MuSkin and mixed resources leathers like the MycoWorks vegetable/mushroom composites are growing large sheets of mushroom leather from cultures.
Most of these listed here are still in the development stage, getting off the ground but not yet producing industry-scale quantities or competitive pricing.
So far, these types of leathers are being used mostly experimentally in high-end fashion. Their strength, feel, and quality is unique and their environmental credentials are encouraging.

Note: Walnut Studiolo is committed to sustainable sourcing and a small environmental footprint. We take oursustainability values into every decision we make. We are continually evaluating leather alternatives for our workshop but have not identified any that have the material qualifications our products need (structural rigidity with flexibility and weather resistance).
Lesson #2 at the Walnut Workshop
We expect a certain level of performance from a belt: it needs to be durable, flexible and comfortable. That's why the Cribbage Board Belt is made from cowhide: it stays strong even as it gets softer with use and time, forming to your waist.
Next Lesson
In our studio, we use exclusively full grain cowhide - and in the next post we'll discuss exactly what that means.
---
We're writing a leather learning series, and this is the second of eleven posts. In the series, we go through the different kinds of leather and the different ways it is tanned and finished, then talk about how leather as a raw material is turned into products, how to tell good leather products in the store, how those products should be maintained, and ethical leather choices.
Subscribe to our email list to get notified of more posts like these: