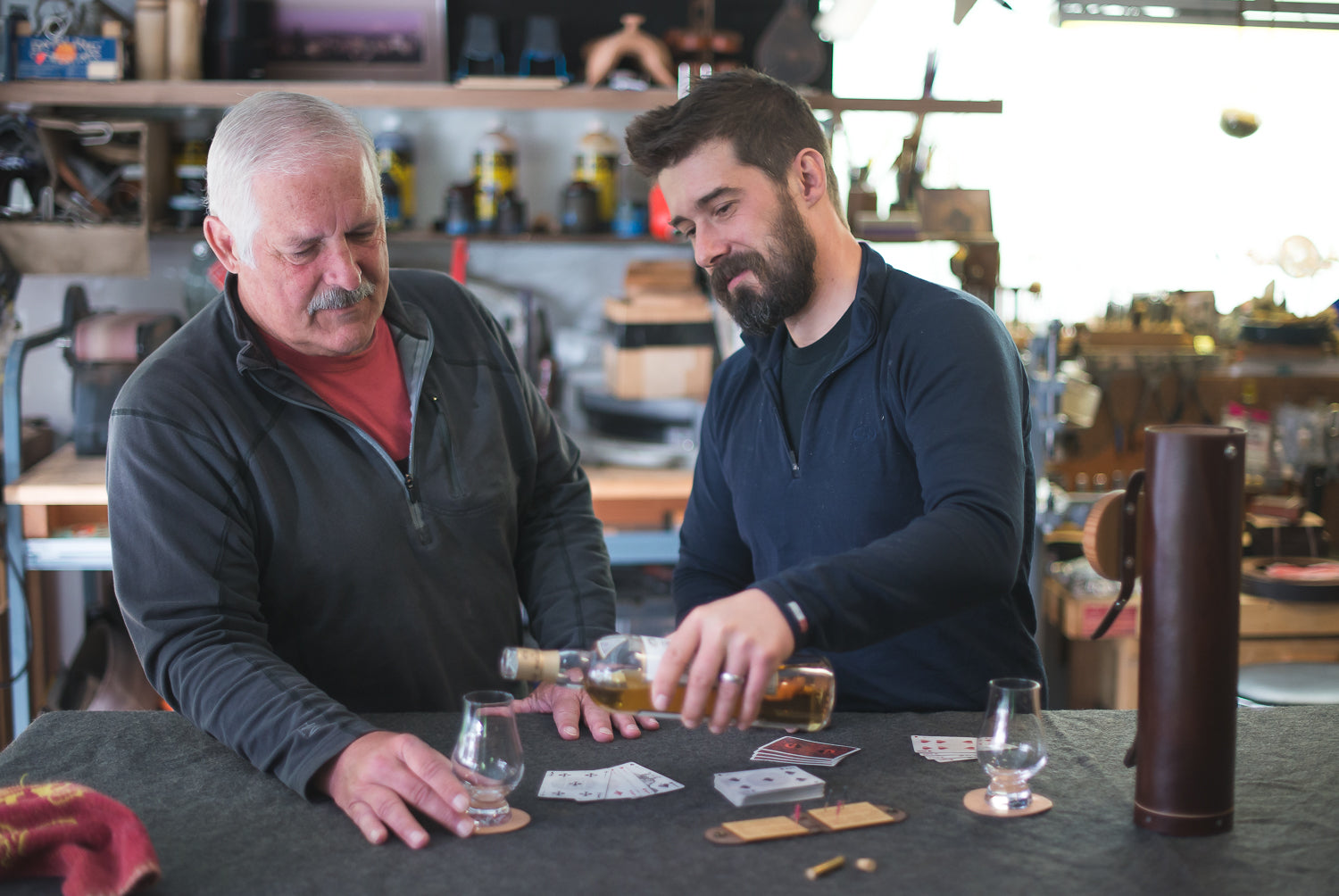 In so many families it is harder to shop for dads than moms. We all know the key is to spend quality time with Dad, so we here at Walnut Studiolo brainstormed some unique ideas for spending quality time with Dad and making a memorable Father's Day:
1. Plan a long bike ride together with bicycle-loving and athletic Cyclist Dad Map your route using the Google Maps Bicycle Directions feature, and you can make sure the topographic profile of your ride will match the skills of you both. Dad will love Walnut's handy-dandy and award-winning Bicycle Frame Handle while lifting his loaded bike to the curb for a well-deserved ice cream cone finale at the end of the ride.
---
2. Invite Whiskey-Loving Dad over for a whiskey tasting. MasterofMalt.com sells most of their extensive whiskey collection in dram sample size kits ($89) for comparison tasting at less cost. The cherry on top will be a Walnut Studiolo Whiskey Case ($145) for treasuring that favorite, keepsake bottle of whiskey that you discover together during your tasting.
---
3. Take Beer-Drinking Dad to his favorite brewery for a pint and a game of cards.  Bring a Walnut Studiolo Travel Cribbage Board and a special deck of cards to the brewery with you. Right now, we're loving both the Sherlock Holmes deck of cards by Kingswild, as well as the hand-drawn city-themed decks by Illustrated Playing Cards.
---
4. Get crafty with Maker Dads at a hands-on woodworking or metal welding class.  ADX Portland has a complete class line-up and a Build with Dad class on Father's Day, or check your local community college.
---
5. Visit an art museum or take an architecture tour with Brainiac Dads. At the end of the tour, appreciative Dad will love Walnut Studiolo's completely hand-stitched, hand-crafted leather Blueprint Tube, a perfect gift for storing archival prints and carrying blueprints on the job.
---
Bonus! Give Patriotic Dads the gift of a story about how you discovered a special local company. If dad's more of a project-starter than a project-finisher, he'll still be proud to own any of these amazing locally-made, Made in USA gifts. If Dad's in Portland, browse Portland Made for Made in Portland gifts or go straight to retail store Made Here PDX at SE 10th and Couch. From mountain man burly wool and canvas jackets to handmade guitars to Oregon coast harvested sea salt caramels, you'll find something for everyone, including this gorgeous bicycle by Doug Fir Cycles featuring loads of Walnut Studiolo gear:
---
Still struggling for ideas? Browse our curated list of unique gifts for dads on WalnutStudiolo.com for more ideas.