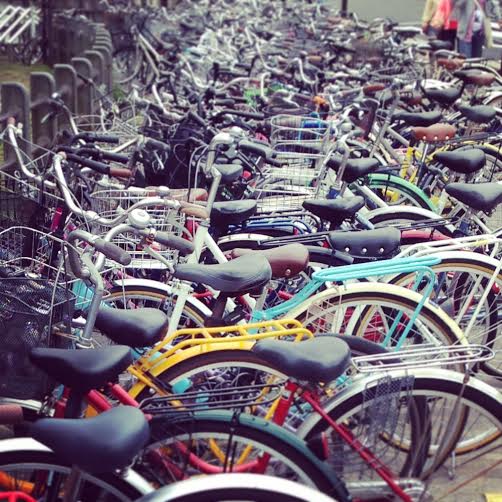 On our recent trip to Japan, we got a sense of the general cycling scene in Japan. Mostly characterized as 
mamachari
("mama chariots"), they were mostly inexpensive, Dutch-style, step-through bikes with few gears. Which makes sense, because these were mostly cross-town bikes on flat streets. Bike parking was a big deal here. There were bike valets and multi-story bicycle parking structures, and city-mandated bicycle parking structures. Interestingly, this did not seem to be because people seemed to be worried about their bikes getting stolen so much as just needing a place to put the mass of cycles in a paucity of shared spaces. I saw incredibly nice bikes not locked up at all, or hardly more than haphazard cable lock. In one case, I saw a new and gorgeous bike which only had the saddle secured with a cable lock. It was like bicycle paradise, where you didn't have to worry about anything getting stolen. The cities were so incredibly dense and built-up, that there wasn't enough room for all the free, on-street bike parking that would be needed - and that we take for granted in Portland. To manage the lack of street space in Kyoto, the City actually had mandatory paid cycle parking in certain popular neighborhoods like near the Gion geisha district. People were very orderly about it!
Bicycle valet parking in front of a shopping mall in downtown Kyoto Even though the weather was pretty temperate in April, we also noticed a trend of certain bicycle accessories that we don't see as often in the States, like these handwarmers on bicycle handlebars. Here was a cozy version we saw at the deer park in Nara, which is just outside Kyoto:
Handmade handwarmers on bicycle handlebars, seen in Nara, Japan We rented bicycles one lovely Sunday, and took a leisurely ride around Kyoto along the river and cycle paths. It's really the best way to get around Kyoto, which is just big enough not to be walkable, but just small enough that public transportation seemed unnecessary. Here's Geoff on his too-small Japanese bike (we found out that they don't carry sizes large enough for us gangly-legged Americans!). We were lucky enough to catch the end of the cherry blossoms:
On a Sunday ride along a cherry blossom cycle path in Kyoto Along the river, we saw hordes of young people and their bikes spread out on matching blue tarps, eating pizza and playing music. What a great way to spend a Sunday, to bike to the river and meet your friends for a picnic. Again, not many locks. They know how to do it right:
College kids gathering for picnics along the river on a warm Sunday in Kyoto
College kids gathering for picnics along the river on a warm Sunday in Kyoto Traveling on to Tokyo, we saw more variety in the bikes, both those with more of a sense of a fashion, and more utilitarian. Here is a true utility bike that looks like it came straight out of 
Jiro Dreams of Sushi
, a cargo bike at the world-famous Tsukiji Fish Market.
Utility bike at the Tsukiji Fish Market in Tokyo With a denser city, there was also more interesting cycling infrastructure. This particular corner seemed a bit overbuilt and strangely one-sided to me:
Interesting traffic calming device, to get cyclists to dismount at an intersection in Tokyo I liked the style of the cyclist crossing signs - what a dapper gentleman cyclist:
A dapper cyclist crossing sign, near Kyoto Railway Station In the hipster district in Minato-ku, we saw people putting more personal style on their bikes. This looked like a good DIY project, a repurposed denim saddle cover, although personally I would spray it with Scotchguard to make it an effective saddle cover from the rain:
Denim bicycle saddle cover, out front of a boutique in Minato-ku, Tokyo I actually saw more everyday cyclists in Japan than Vietnam, but it's such a utilitarian necessity living in the city, that the majority of cyclists don't put too much thought into their bicycles. That is a huge generalization of course, because in my next post I'll talk about the people we met at the Tokyo Bicycle Swap Meet, and you can see that there are passionate cyclists there who care very much about their bikes.
-VSF