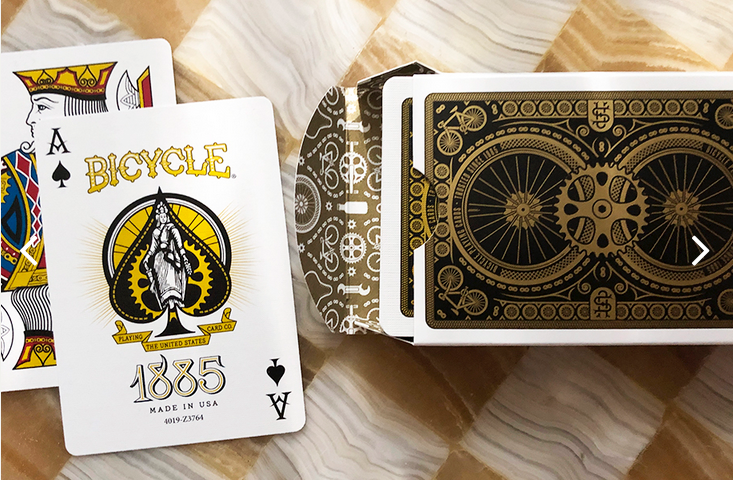 Inspired by the pocket games soldiers carried in WWII, our Travel Cribbage Board with Gift Set with has become a perennial favorite and top seller. Now our Gift Set comes with a new deck of cards that we're sure you're going to love: Bicycle 1885.
It was with a sense of surprise and opportunity that we learned that our long-standing Bicycle ECO Edition decks of cards, made from recycled paper, were suddenly discontinued in October 2020.
We've selected the Bicycle 1885 deck to replace the ECO Edition. We love the exuberant bike-y theme, with hidden sprockets, spokes, chains, bicycles, and even saddles incorporated into the face cards, card backs, and tuck box. Hand-illustrated by Cincinnati artist James Billiter, the design also has a vintage, steam punk vibe with classy gold foil accents. And of course, the decks are still Made in the USA.
Why Bicycle?
The Bicycle brand of cards has been made in the USA by the United States Playing Card Company since 1885. Why was it named Bicycle? According to the cards:
In 1885, when it came time to name a new deck of cards, a young pressman commented how bicycling was growing in popularity and the Bicycle brand was born.

United States Playing Card Company
The Travel Cribbage Board Gift Set
Our Travel Cribbage Board Gift Set now includes a handcrafted leather and wood travel cribbage board, a "minibook" with rules of play, a muslin carrying pouch decorated with artwork by illustrator Carla Bartow and one deck of Bicycle 1885 playing cards. The included small double-drawstring bag is the perfect size to keep your cards and board organized together in your pack, whether you're on the train or on the trail.
And don't forget you can personalize our Travel Cribbage Board with a monogram (up to 3 characters) to make your gift extra-special (and to deter thievery!).
Shop the Travel Cribbage Board >>>
Shop Handcrafted Travel Games >>>