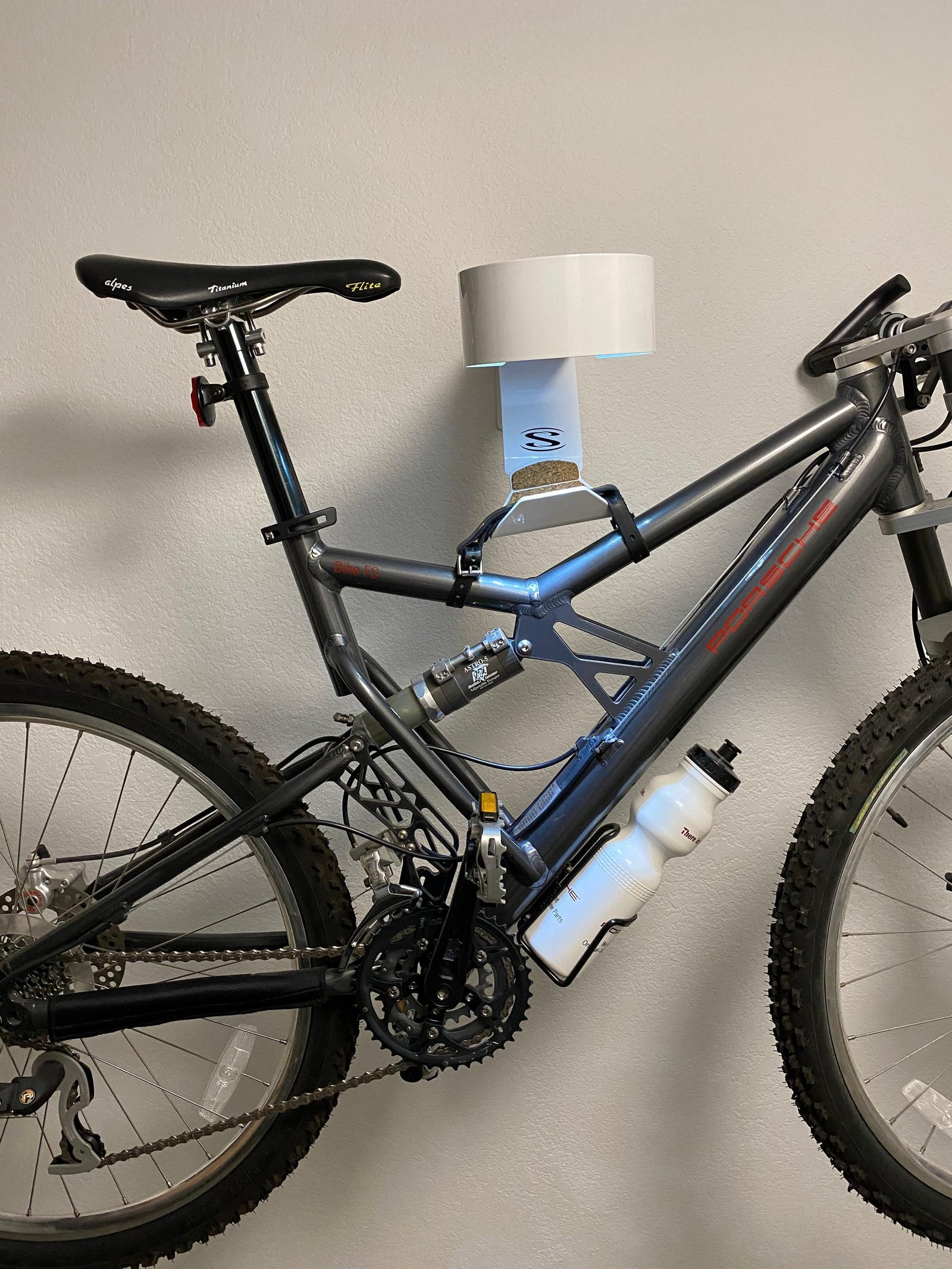 Customers share their photos showing creative applications of the Bicycle Frame Handle for unique frame styles, storage, and extra lifting support
Our popular Bicycle Frame Handle offers a solution to a common bicycle commuting problem: it makes lifting and maneuvering your bike easier. But it's not just for standard bicycle frames, and our clever customers have found all sorts of uses for it beyond the vanilla bicycle frame.
Check out some alternative uses for the Bicycle Frame Handle here:
Alternate locations on unique bicycle frames
Cargo bikes
Our handles can handle a serious amount of weight, at least 60+ lbs. The leather is the same kind used in horse bridles and reins. On cargo bikes and other unique configurations, the Bicycle Frame Handle might be the most helpful not in the usual seat tube / bottom tube location. Engineer customer Doug installed his on the seat tube and top tube for lifting his heavy front load Dutch-style family cargo bike.
Folding bicycles
Brompton users install the Bicycle Frame Handle twice on the top tube instead of the bottom and seat tubes. For configurations like this, simply ask us to send TWO large belts instead of the regular Large size. We'll make the swap free of charge.
Mixte / step-through bicycle frames
Riders of step-through / mixte frames (formerly known as "women's" frames) can install a Bicycle Frame Handle wherever it makes most sense. The lower on the bike, the more it will help with lift, but there has to be enough room for comfortable hand access. It could be in the traditional location on the bottom + seat tube, or on the top tube, or on the top tube + seat tube, as shown on these different customer configurations:
Extra lifting area on bicycle rear rack
Customer Denise C. wrote this 🌟 🌟 🌟 🌟 🌟 review for her Bicycle Frame Handle: "Had previously purchased a Little Lifter for my old Schwinn bicycle. I am a weak 72 year-old female. I was having all kinds of trouble trying to lift up the back frame of my new ebike when I wanted to slightly adjust the ebike's position. Then I thought to myself, "Ah! I need another Little Lifter."
Bicycle storage loop for wall-mounted shelves and hooks
Customer Tony had a uniquely-framed bicycle where the the center of gravity of the bike is where the cross bars are welded. Hanging it on the Show Off wall rack was off-balance and could put stresses on the rear shocks, so Tony devised the clever solution of using the Bicycle Frame Handle to hang his bike closer to the center of gravity.
Perfect Bicycle Commuter Accessory
The flexible leather material and adjustable sizing of the end belts make the Bicycle Frame Handle a versatile bicycle commuter accessory. What clever installations have you used it for? We love to hear your stories!