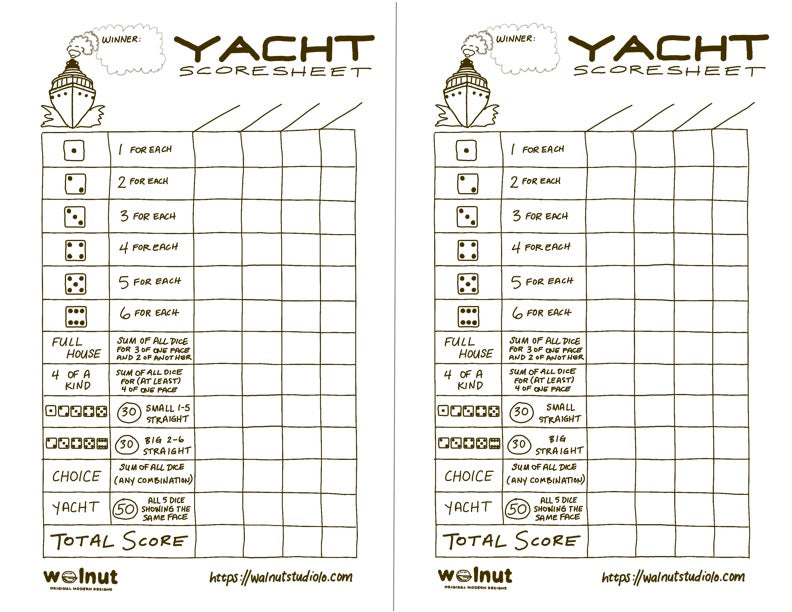 In this post, we'll share how to play one of our favorite dice games using 5 dice, which is included in our portable pocket-size Travel Dice design: Yacht (aka Generala, Yatzy, Poker Dice, Cheerio), which is the original public domain version of the game that is packaged by Milton-Bradley as the trademarked Yahtzee®. Yacht can be played with any number of players (2+) and all you need is dice, scoresheets, and a pen. These are the complete rules of play, plus a free printable Yacht scoresheet.
How to Play Yacht
Although it has many names and some variations, this is the basic version of the game that we play, taken from the official source, Hoyle's Rules of Games. There are some slight scoring differences from the trademark Yahtzee® game but we actually enjoy this way more. See more complete rules on the Wikipedia page for Yacht.
Object of the Game
Score the most points after 12 rounds of game play.
Game Play
Gather a scoresheet for each player and 5 dice. The game consists of 12 rounds, and each player one turn within each round. Each turn consists of up to 3 rolls of the dice. The object of a turn is to designate dice to count in one of the 12 categories shown on the scoresheet (more on that below).
At the beginning of each turn, the player throws all 5 dice. The player sets aside any of the dice they wish to designate to a scoring category, and rolls the rest of the dice again. Same with the second roll. The player may "stay" at any time and is not required to roll all 3 times. After the third roll or "stay", the player must select a category on the scoresheet and enter the chosen score (which may be zero) under their name's column.
No category may be used more than once in the course of the game.
When every player has had 12 turns, the scores on the scoresheet are tallied and the highest score wins.
Scoring
The scoring is as follows, with a maximum achievable score:
| | | |
| --- | --- | --- |
| Category | Description | Maximum Score |
| Aces | Sum of all 1's | 5 |
| Deuces | Sum of all 2's | 10 |
| Threes | Sum of all 3's | 15 |
| Fours | Sum of all 4's | 20 |
| Fives | Sum of all 5's | 25 |
| Sixes | Sum of all 6's | 30 |
| Full House | Sum of all dice with 3 of a kind + a pair | 28 |
| 4 of a Kind | Sum of all dice with at least 4 of a kind | 29 |
| Small Straight | Score 30 for a 1-2-3-4-5 | 30 |
| Big Straight | Score 30 for a 2-3-4-5-6 | 30 |
| Choice | Sum of all dice (any combination) | 30 |
| Yacht | Score 50 for 5 of a kind | 50 |
Use our free printable scoresheet for game play:
---
Travel Dice
Inspired by the pocket games soldiers carried in WWII, our handcrafted Travel Dice are small enough to be portable and lightweight but large enough to be legible and substantial in the hand. 
Made from high quality, natural materials, the (6) included dice are stored in a solid brass travel tube, secured with walnut wood, and carried with a beaded brass-plated chain that can be worn as a necklace or carried as a keychain.
Play dice, dominoes and more classic travel games on-the-go with your family and friends using our creative, handcrafted travel-sized versions. Check out all our handcrafted travel games: