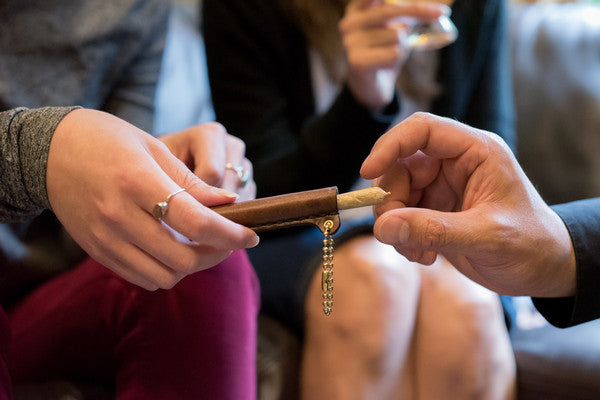 GUEST POST This holiday season, select states will be a little happier than the others when they dig into the bounty of holiday baked goods, pies, and steaming cider. The holiday lights may have a slightly deeper fascination for legal marijuana lovers in Colorado, Washington, Alaska, and our beloved home state of Oregon. That's right, the evergreen of the Christmas tree is now legally matched with the green of marijuana and the many gifts that come with it. Walnut Studiolo recognizes that not everyone who enjoys marijuana is in the market for a the typical rasta-style marijuana merch. They have their own, completely unique, modern style, and we are thrilled to fill their needs with our
Marijuana Collection
. With our modern designs and natural materials like full grain leather, brass, and cork, your loved ones can get out from under the many stereotypes that come with their preferred method of recreation.
Monogrammed Leather Stash
Keep three cannabis strains handy and sealed tight. Our premium offering is the
Classy Stash.
This natural, all-leather box with three included glass jars makes the perfect Christmas gift for the recreational and medical marijuana smoker alike, to help them organize their strains. Made of hand-dyed, dark brown, vegetable-tanned leather, this grass stash box comes with nickel-plated hardware and 3 light-filtering, food grade, and odor-capturing amber glass jars. We can monogram this hand-made leather gift for the ultimate in personalization. If you'd like to be funny with your friend, you might monogram the gift with THC.
Medical Marijuana Gifts
Medicate when you need. The three jars in our
Classy Stash
are particularly handy for the cannabis aficionado in your life. Cannabis comes in myriad varieties, and your friend can carry around a bit for morning, noon, and night. Medical marijuana patients might particularly appreciate this aspect, as they will have a gift that accommodates their need for different sorts of medicine, and enables them to organize and tote their buds. This Christmas, if you have friends who are medical marijuana patients in California, New York, Maine, or Minnesota, they will love this classy, leather gift €" with a monogram, it's all the more special.
Leather and Brass Joint Tubes
Take a doobie on the road. Though there are so many ways to smoke, including battery-operated vaporizers, artistic glass pipes, and high-tech bongs, the good old joint remains a beloved classic. However, if you are on a long trip with friends, or cycling across town, it's not so easy to carry one. That's why you need to gift your best blunt-rolling friend with our
Doobie Tube
. We hand-make each
Doobie Tube
from the finest leather that we stitch and dye right here in our Oregon workshop, wrapped around a solid brass tube and sealed with natural cork. Another gift option for your traveling friends is the
Joint Tube
. It's another great way to bring a sense of class and sophistication to the love of cannabis. This brass tube is stoppered with a cork and will safely carry a spliff to any party or intimate gathering of close friends. No smoker has ever stuffed a joint in their pocket without it bursting everywhere. Now they can. Designed to fit perfectly inside a box of cigarettes, the Joint Tube is perfect for singular smokers who don't want to feel the need the finish a joint in one sitting. Simply store your roach odor-free in this small, low-profile brass tube. Just in case, we also offer spare corks for the tubes for either the
Doobie Tube
or the
Joint Tube
.
The Gift that Sparks a Million Smiles
Spark a new friendship with a leather lighter case. To top off a Christmas gift to a cannabis loving friend or family member, particularly to pair with a joint tube, make sure you include a
leather lighter case
. A high quality lighter case like this is harder for a sticky-fingered friend to make off with when the bowls are going around. We have sized this vegetable-tanned lighter case to fit a standard-sized Bic lighter (lighter not included).