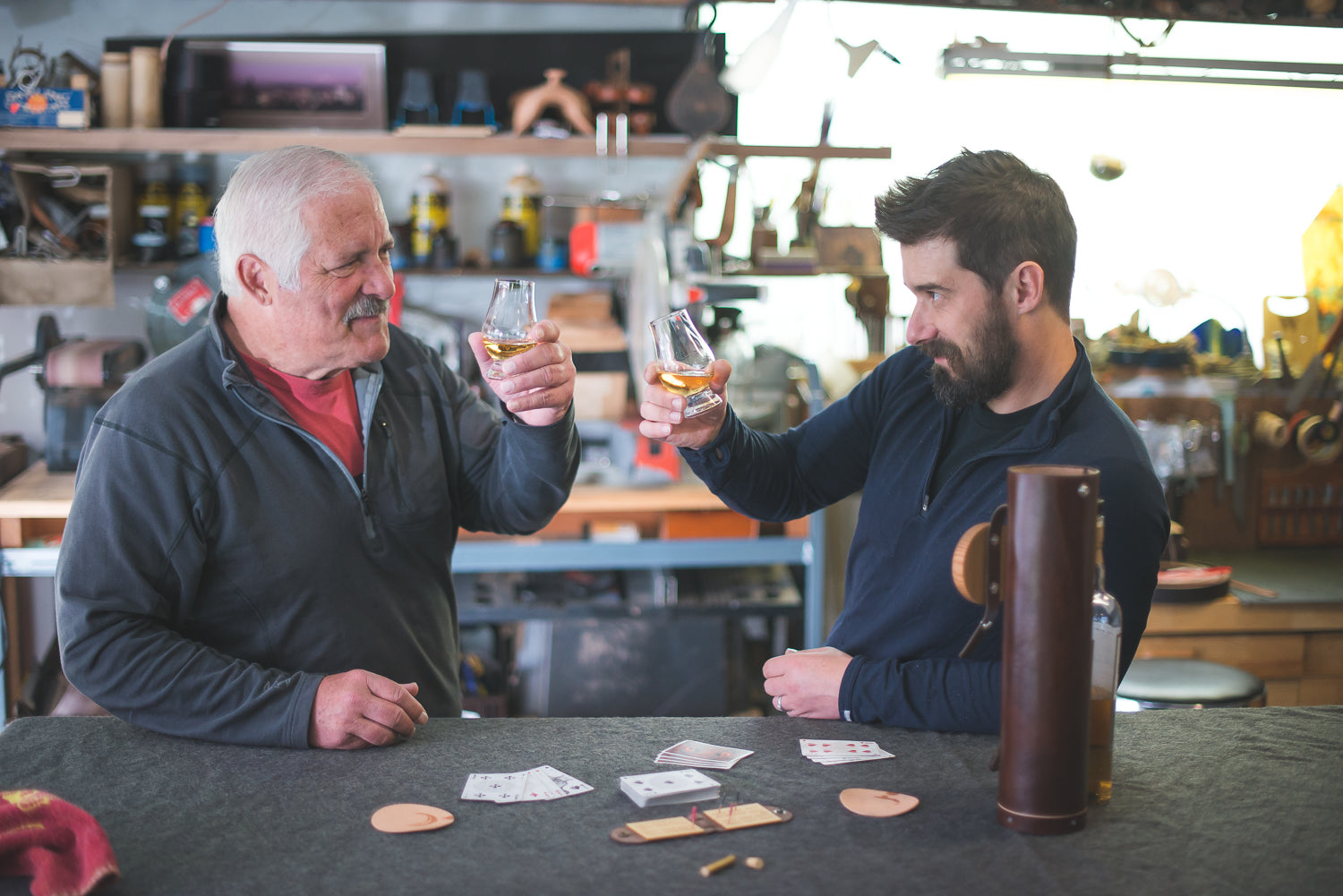 Remember when you were a kid and the gifts most appreciated by your parents were always the handmade ones? Maybe it was a crayon drawing, a birdhouse or an apron with your handprints - you knew that the thoughtfulness and love that went into your gift made it extra special.
At Walnut Studiolo, everything is made with thoughtfulness and love. With Father's Day right around the corner, we decided to put together a roundup of perfect Father's Day gift ideas for just about any Dad. We have bicycling and beer accessories, of course, but also our new travel games and even some great gift ideas for Dad to use at home or on the go.
Bicycle Accessories 
If you live in a rainy area, this is a truly practical and indispensable gift that any Cyclist Dad will appreciate. Our handcrafted mud flaps made from American leather come in a "road" style for road bikes and "classic" style for wider tires.
$44 Bicycle Frame Handle ("The Little Lifter") -
Blow Dad's mind with this great bike frame carrier €" it makes carrying a bike as easy as carrying a briefcase. The bicycle frame handle was the cycling accessory that we launched on Kickstarter and this bicycle carrier has remained a best-seller ever since. The Museum of Modern Art even recognized the brilliance of its design by including it in the Design Store!
$36 6-Pack Frame Cinch -
What is it about bicycling and beer that makes such a wonderful combination? Our ever-popular frame cinch gives Dad a way to tote his 6-pack of brew from the market, around town or to a favorite cycling destination. This 6 pack carrier, too, seems to have limitless applications and can be used for kayak paddles, fishing poles or an umbrella, among other uses. Pair it with our durable leather and wood 6-pack holder for a complete set.
Travel Games 
$45 Travel Cribbage Board-
Cribbage enthusiasts know that the itch to play can happen just about anywhere! With this lightweight and compact cribbage set, you can keep it stashed in the glove box, handlebar bag or backpack. For stylish, cribbage-loving MacGyver Dads, also check out our dual-purpose cribbage board belt.
$35 Travel Dominoes -
Challenge Dad to a game with this Baltic Birch wooden dominoes set. The clever and fun design pairs with its easy portable, letting you layout at the pub, coffee shop or patio.
$28 Travel Dice -
For gamblers and Farkle-players, our small travel dice attach to dad's keychain in a handsome square brass tube. Classic materials hide a functional travel game.
The Dad Who Has Everything
$40 Business Card Holder -
This classic accessory sports an innovative design to make removing the business cards easier. The combined leather and wood of the business card holder allows you to carry many cards without sacrificing functionality. Add a monogram to make it extra-special.
$9 Leather Earbud Organizer Keychain -
Perfect for commuters, this simple leather organizer keeps your earbuds from getting tangled, is minimal in design, and meets all the sustainability criteria because its made of up-cycled leather from our workshop.
Well, there you have it €" with a range of biking accessories, games and more, we hope you can find the perfect Father's Day gift for Dad. And, we hope you and your family have a wonderful Father's Day!
PS. Looking for more ideas under $50? Check our <$50 Gift Guide!