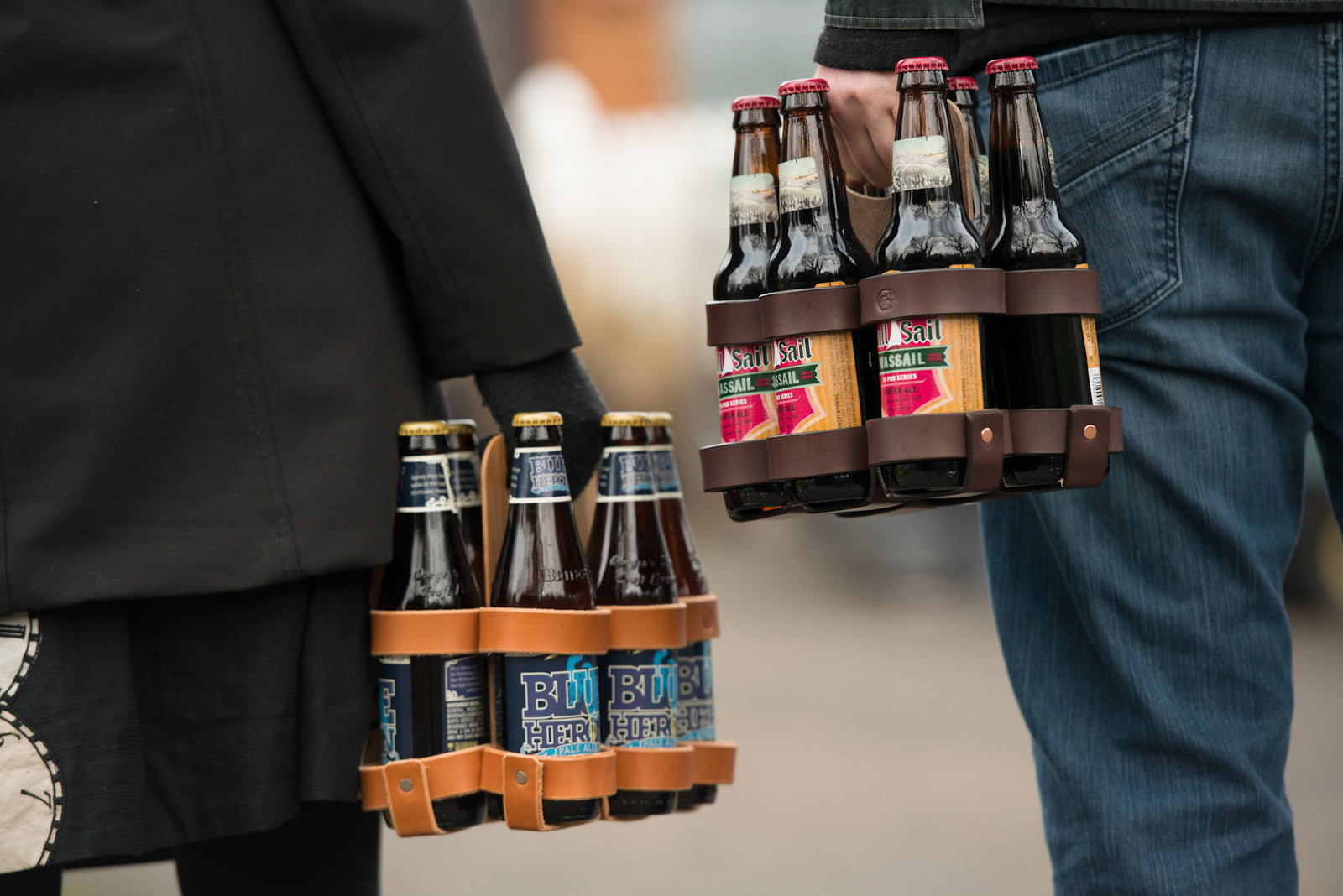 All you need to make an easy DIY beer gift basket: a printer, a handsome beer carrier and a quick trip to the bottle shop. Easy as 1, 2, 3:
1) Print Beer-Tasting Notes
There are great example of beer tasting notebooks you can buy on the market (like this one from Portland-based 33 Books), but if you're strapped for time, why not just DIY a little beer tasting notebook yourself? Simply print & assemble these resources:
Beer Tasting Note Sheets / Scorecards: Filling out these scorecards creates a record of what you've tasted and what you like/don't like. We like scoresheets that give scales or ranges to fill in (such as a color bar from straw to black) rather than just empty lines (writer's block inducers!).
Beer Tasting Flavor Wheel: The flavor wheel helps the reviewer prompt and label taste and aroma descriptors when filling in the tasting notes.
2) Select a Few Good Beers at the Bottle Shop
Choosing which beer to include for a beer snob can be stressful if you don't know much about beer. If you have a local beer bottle shop, visit the knowledgeable folks there and they can help you pick out the right bottles. If you're not, you can check out online beer stores or make do with the best your local grocery store has to offer.
For a sampler style variety and a complete tasting experience, try picking a variety of colors, styles, and bitterness levels, such as:
Crisp and light: like a Pilsner or Kolsch
Malty and earthy: like an amber or lager
Hoppy and bitter: like an IPA (India pale ale)
Roasty and dark: like a porter or stout
Fruity: anything with fruit in it
Funky and sour: commonly a Belgian ale or marked "sour"
3) Pair with a Handsome Beer Case
Our handsome leather and wood beer carriers and cases are handcrafted in our Oregon workshop and can be monogrammed for a special, thoughtful gifting touch.
Our reusable leather "Spartan Carton" is durable and perfect for homebrewers who make their own bottles. The tough equestrian leather in our 6-pack means it can even be thrown into the river to keep beers cold.
Our reusable leather "Spartan Carton" is paired with a leather cinch for the top, the 6-Pack Frame Cinch for urban cyclists for the ultimate beer drinking cycling gift set.
Our leather case designed for whiskey bottles also works well for large-format beer bottles and bombers, like that special 750ml Belgian with the cage top you've been eyeing.
---