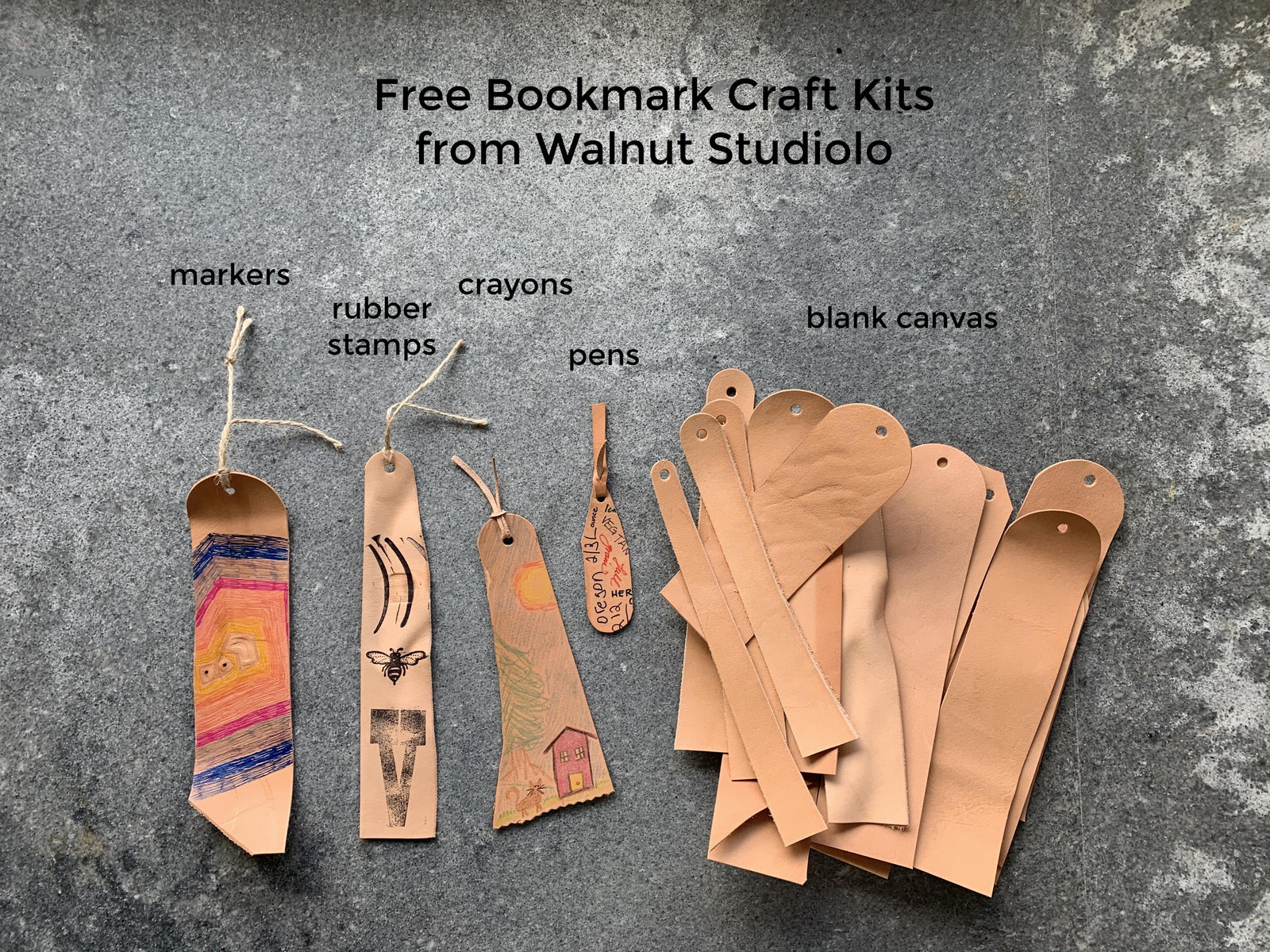 UPDATE 5/8/2020:
We were thrilled to offer free bookmark blanks for you to craft at home using our high-quality American vegetable-tanned leather - handcrafted for you out of our scrap bin - during this weird, weird time.
Over the course of March, April, and May 2020, we sent out over 350 bookmarks to 113 households around the world. It is an honor and privilege to send these to you all!
Unfortunately, supplies ran out - we scraped our scrap bin clean.
Thank you to everyone who donated postage for others, this allowed us to keep this program going much longer than we initially thought possible.
With love and gratitude, stay safe and be well!
-Valerie & Geoff, Walnut Studiolo
---
ORIGINAL POST:
We want to use our skills to be helpful during this COVID-19 crisis. We are in a unique position to run our business from our home normally, so we are able to keep crafting and shipping as usual.
How can we use our hands and our skills and our materials to support you?
Free leather craft kits.When times are tough, we like to make art, and now we've made it easy for you too.
We rifled through our scrap leather bin and made a batch of blank leather bookmarks which you can decorate and embellish at home. We've found just about anything will work on our natural vegetable-tanned leather: you can tattoo them with regular ink pens, color them with crayons, ink them with rubber stamps, mark them with sharpies.
You'll find that they will soften and gain a beautiful patina with age and use. The high-quality American-tanned leather we use really makes a lovely bookmark.
Our bookmark blanks come complete with a hole at the top for a tassel. Tie a bit of yarn or ribbon, or use scissors to cut a strand of leather from the bookmark to make a tassel. You can even cut the ends into a tassel with sharp scissors and several parallel cuts, like the photo below with the stack of books.
We'd love to see how your decorated bookmarks turn out! Tag them on social media with #walnutstudiolo and it will brighten our day.
These kits are for everybody needing a home activity during this weird, weird time.
To request a kit, fill out this google form (embedded below):
https://forms.gle/cMDKUHLQHFmhVSPr8
Or of course, if you're putting in an order anyway, just leave us a note in the "message to seller" box during checkout (we read every note!).
Postage / Donations: If you'd like to give us an (optional) donation to cover the cost of postage, our paypal link is: https://paypal.me/walnutstudiolo
Details:While supplies and postage stamps last. Limit one per person or 5 per household. We have quite a bit of leather scrap in the bin, but we don't know how popular these will be!
[googleapps domain="docs" dir="forms/d/e/1FAIpQLSePi01KIx4bxc2iIqOXPeY0WWieSwiikzq8Viw8u5q_Z9-2gw/viewform" query="embedded=true" width="640" height="2166" /]