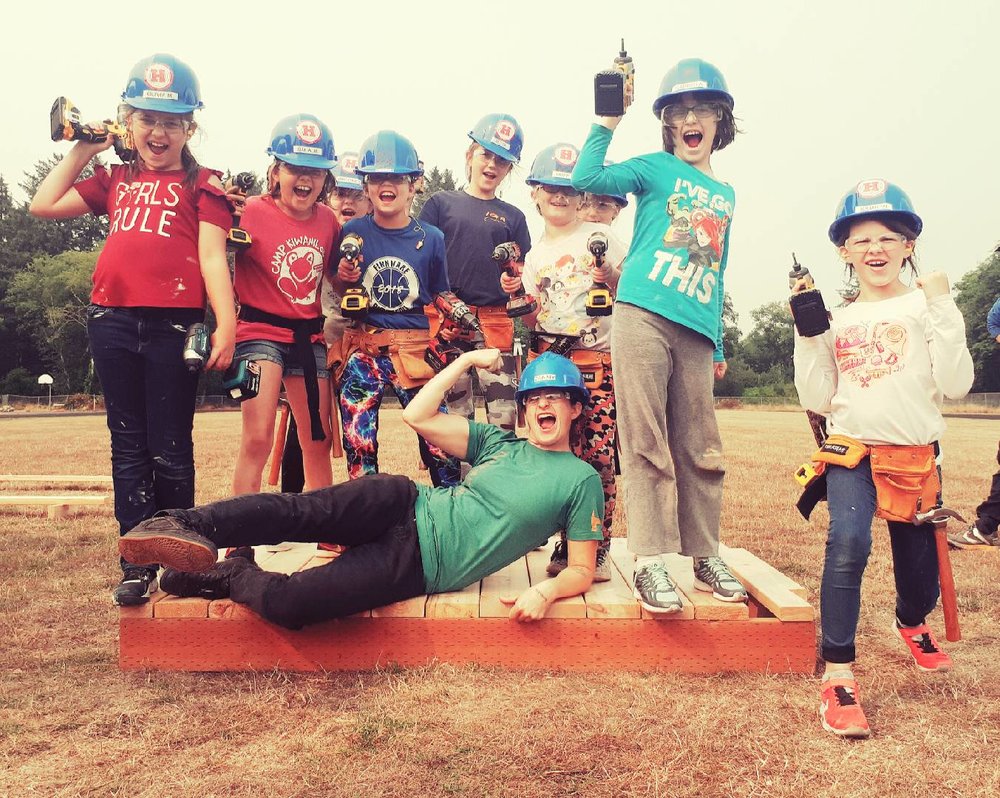 We interviewed long-time customer Mel George about her sustainable approach to real estate. We discussed the impact of philanthropy, supporting women in the trades, environmental sustainability and client gifting in her work, and she shared the secrets to her success!
How did you get started as a real estate agent? 
Starting in 2004, I began volunteering A LOT, every weekend, with Habitat for Humanity's Women Build program. I was addicted! It was so empowering to learn construction, power tools and the ability to impact lives for generations to come.
At the time, I was a project admin at an architecture firm and realized that wasn't what I wanted to do with my life. I wanted to be my own boss so I could make my own schedule, and volunteer whenever I wanted.
So, I switched my day job to corporate event planning and studied nights/weekends to get my real estate license, which I completed in 2006. Little did I know that taking full days off to volunteer wouldn't be as easy, but I still stay connected to Women Build 15 years later. It gave me such confidence to understand building systems and apply it in my career every day. 
What do you love most about being a real estate agent? 
I absolutely love educating clients so they can make the best and most-informed decision possible. I pride myself on outstanding, top level, concierge-type service. I work with a lot of first-time buyers, first-time sellers and investors, so there's a lot of opportunity to provide input. Helping clients reach their goals is so rewarding!
I also love the constant learning curve. No client, property, street or site are the same. Prior to entering real estate, I never had a job for longer than three years because I got bored. This is definitely not boring!
How does your work in real estate help you live and share your values?
As a housing advocate, I support Habitat for Humanity Portland/Metro East and their Women Build program. Housing affordability is a crucial women's issue. This vital program helps to create affordable homeownership opportunities for single-mom women and their families, one-third of whom live under the poverty line in Oregon.  
As a construction nut, feminist and wife of a contractor, I also support Girls Build, a local nonprofit that teaches girls all types of skills in the trades (carpentry, electrical, plumbing, etc.). These are good-paying jobs that can support households, and with the labor shortage, there are huge opportunities for young women. 
In my work as an Earth Advantage broker, I've learned the principles of high performance, energy-efficient home design. When I meet with clients, I have the opportunity to gently encourage a more sustainable way of life. If just one suggestion results in saving resources, or someone's money or time, I'm good with that. 
Can you tell us about your philosophy behind sustainable client gifts?
I never do the same gift for each client. I try to match the gift with the person. For new homebuyers who are moving from an apartment, a shed full of yard tools. For a seller who's a coffee guru, a temperature controlled mug.
For game lovers or wine lovers or cycling lovers, any of the amazing products that Walnut Studiolo sells. (I love Walnut's products because they are so unique and high-quality! Each gift that I have sent receives the best feedback.)
Each gift should be thoughtful, personal and quality. No consumables. Something to last that is not corporate swag but that will hopefully be something my client loves and allow them to think of me each time they see/use the gift.
This approach is better for my clients because they get something they cherish and better for our planet, keeping unwanted goods out of landfills.
Do you have questions for Mel?
If you have questions about Portland real estate, contact Mel George at Windermere Realty.