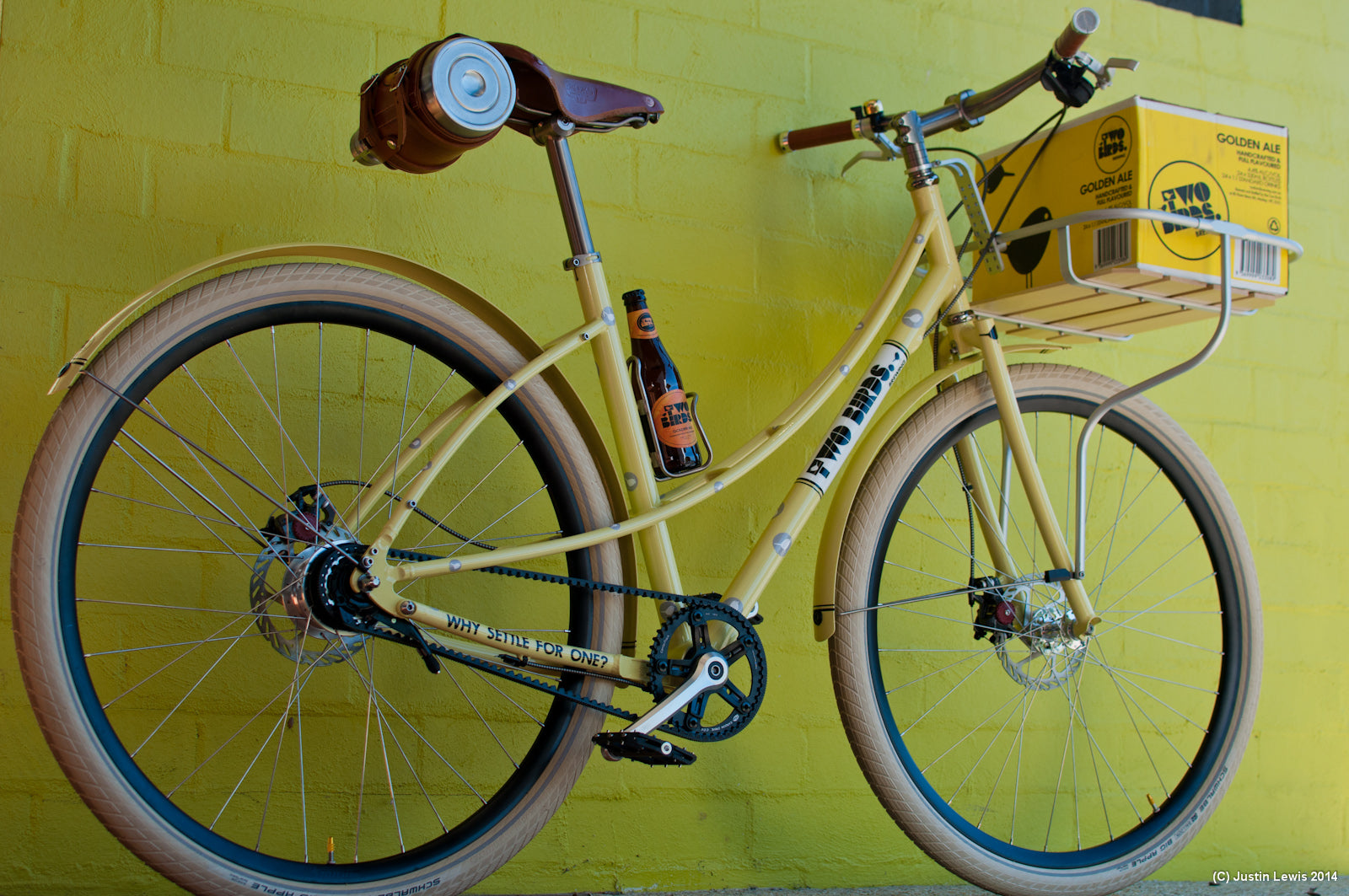 Justin Lewis has been a road cyclist for nearly 20 years and over that time he has developed a passion for buying, assembling and customizing bikes. So when his sister mentioned she wanted to start riding a bike to work, he jumped at the opportunity to put a bike together for her and he chose Walnut to help make it special. But Justin's project wasn't destined to be just any old bike. Justin's sister Jayne is the co-owner and head brewer at
Two Birds Brewing
in Melbourne, Australia; he wanted to theme the bike around her brewery using industrial and crafty materials as much as possible. "I chose a
Budnitz No. 5
frame for its clean, sweeping lines and the gates belt drive which is simple and requires minimal maintenance. I designed a custom paint layout using design elements from Two Birds Brewing." After Jayne's project was complete, Justin just couldn't stop. He then moved on to build up a singlespeed bike for Jayne's husband Lewis, who also works at the brewery. Needless to say, the singlespeed is also themed after Two Birds Brewing. Throughout both of these projects, Justin relied on Walnut Studiolo to help dial in the finer points. "The details and accessories in a high end bike build are important. In order to complete these builds, I wanted leather beer-specific accessories to add to the overall effect.
The smell and the feel of leather is always special.
" Justin added a Walnut 6-pack beer holder with a customized frame cinch for extra personalization, and leather mud guards to add to the fenders. Justin says that the bikes turned out great. "I like that the Walnut items are handcrafted, custom and beautiful. The added visual appeal is stunning for these bikes." Justin says that living in one of the world's most remote capital cities means he winds up ordering a lot of his project needs from the internet, but with Walnut it was fortunately a more personalized experience. In 2014 Justin made a US-wide tour by bike, where he stopped in Oregon and met Walnut owners Valerie and Geoff. "Actually meeting the owners is special - it gives an extra heart to a product, elevating it from being a number pumped out of a factory by a faceless corporation. I must admit, though, it was a little surreal. We met through the internet because of Walnut Studiolo, and managed to meet in person many months and kilometers later." "Walnut's items set a bike apart as special and custom, and that is important to me. The company also reflects the same qualities that Two Birds Brewing are offering - hand crafted beer made by passionate craftsmen. And women." We love seeing the gorgeous projects Justin completed and we'd love to see yours, too! Want to meet Geoff and Valerie? Come join us at our workshop and stay in our cozy guesthouse on the gorgeous Oregon Coast. We offer overnight stays, workshop tours, and on-the-ground intel for cyclists, and crafting enthusiasts from near and far.
PHOTO GALLERY