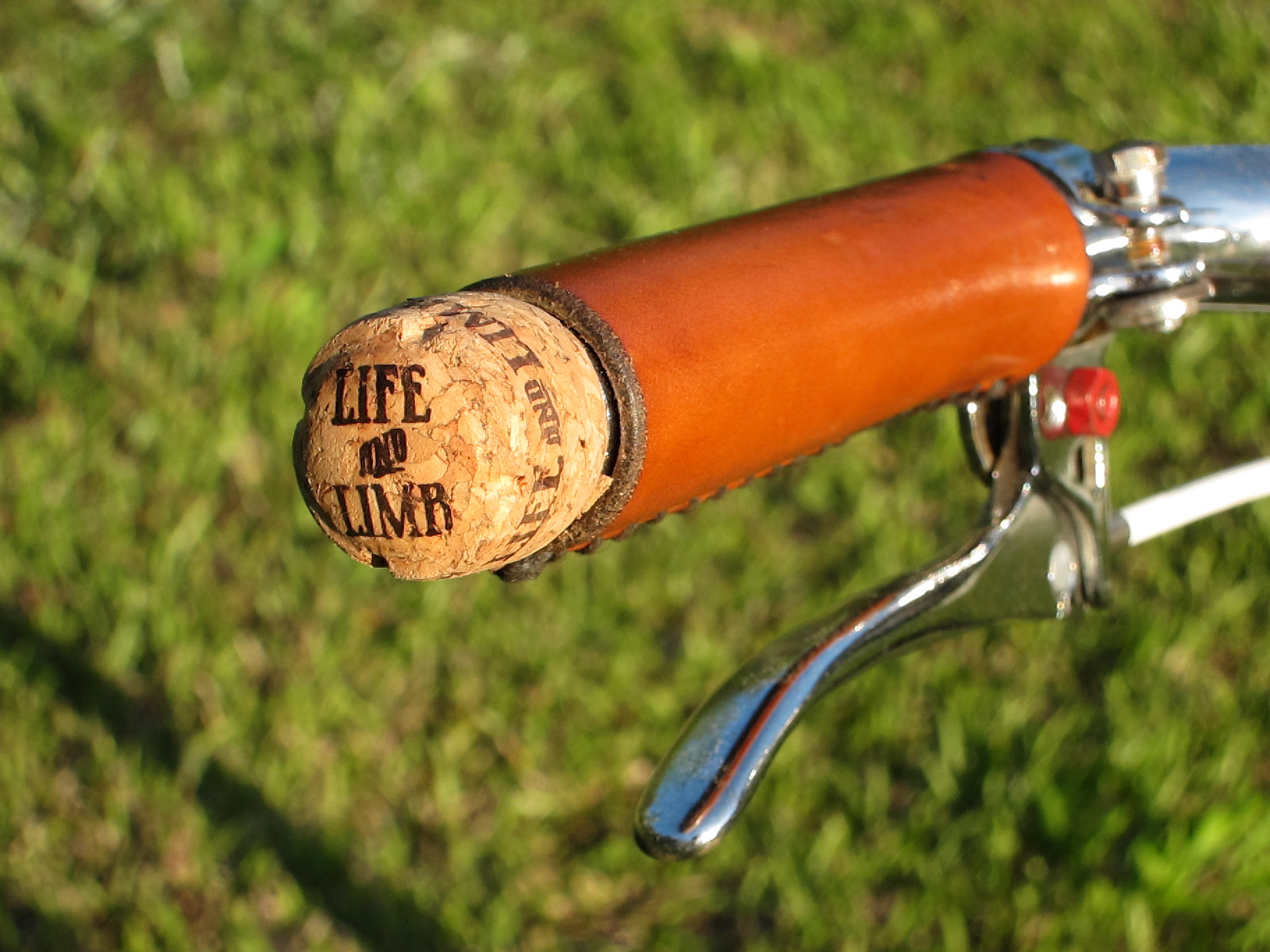 Do the sew on wraps come with bar end plugs?

Thanks, Brian
Our leather bar wraps and city grips don't currently come with bar plugs, which are an important accessory to add to your bike. Bar plugs are a required safety equipment on racing bikes, and well recommended for preventing bodily injury during falls.
Here are some of your options for bar plugs for your bike. Keep in mind that not all bar plugs fit both flat bars and drop bars; they have different internal diameters.
VELOX rubber bar plugs are the perennial cyclist favorite, and for good reason. They are no-nonsense. They are inexpensive, stay in tight, and work great, and are available all over the internet. They work with both city bars and drop bars. They work great for both our city grips and sew-on wraps, when cutting the sew-on bar wrap leather flush, bookending the leather nicely and hold tight. However, for sew-on bar wraps, they don't work for tucking the leather into the end of your handlebar if you want to go that way with your installation. More on that topic - to tuck or not to tuck - in this blog post.

VELOX bar plugs - the perennial cyclist favorite

If you want to tuck in the leather, then the typical inexpensive plastic end cap works great. You can find all kinds of versions of them with an internet search or at your local bike shop.
Basic, inexpensive, black plastic bar plugs from Cinelli
For a natural wood finish, simple liquor bottle corks with a wood end cap ("T-corks") work great. We recommend the variety for sale at Widgetco, particularly because there's no minimum order (eg, you can order 2), there are a couple wood finishes, and multiple diameters for handlebars:

The simplest, and most inexpensive option is the DIY solution: used wine corks. Their diameter fits almost perfectly in most handlebars right out of the bottle. Rivendell provides these for free upon request, as do we, and Widgetco has them available for purchase. To request with your order, just include a note in the "Message to Seller" box in the shopping cart during checkout:

For even more panache, you may want to whittle down a couple champagne corks. This is the old-school cyclist solution, and I actually really like the look of it, too. We don't drink as much champagne as wine at home, so we can't provide these -- but Widgetco has these available for sale, too.


Customer photo by James Cooper - Honey leather City Grips with whittled-down champagne cork.


If you want an all-leather look, Gilles Berthoud has leather capped bar plugs:

Leather Bar Plugs by Gilles Berthoud
There is no one, right answer. Your bike is your unique machine, and you can outfit it however you personally like. These are just some common options for you to think about. Good luck!