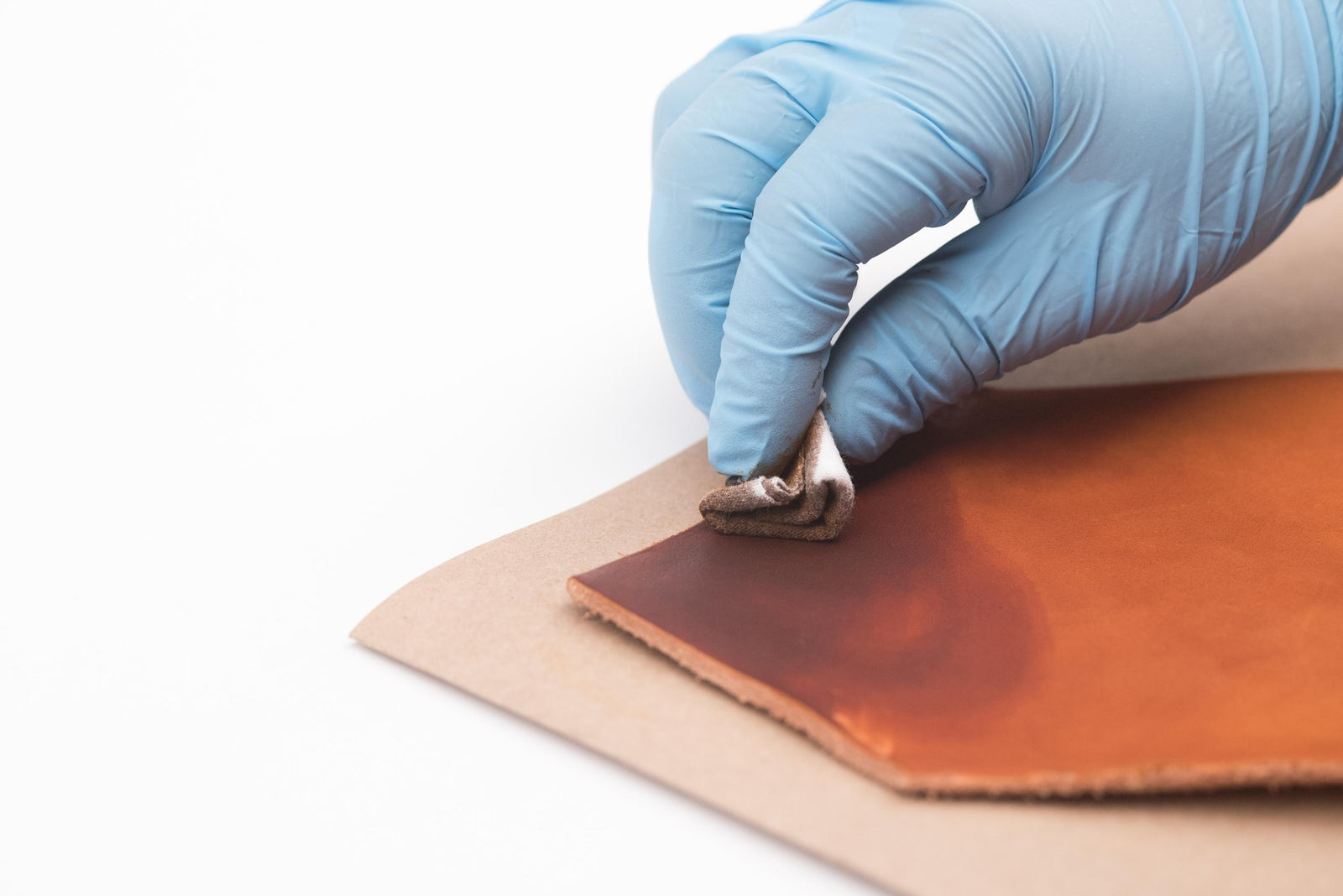 Once a cowhide is preserved for long life through tanning, the tannery can choose to apply any number of finishing treatments to it to change, enhance, or obscure its look, feel, or durability --- or not, because natural leathers can be finished in the workshop.
The finishing process is where much of the confusion between leathers come from. Many of the treatments are done to obscure the actual quality of the leather. Some finishing treatments provide useful shortcuts for those in the workshops and factories making products out of leather.
In this post, we walk through some of the finishing options, including coloring, coatings, and waxes. And we'll talk about why we do it the hard way, finishing our full grain vegetable-tanned cowhide by hand in the workshop.
Full grain vegetable-tanned cowhide
This is the kind of leather we use in the workshop. As shown in the Hermann Oaks factory tour, the leather comes to us as a half hide that is a fairly blank canvas. The shape is natural and the color is natural, which is a light tan / almost light pink color. This means that it can't become white unless it were somehow bleached. The surface has had the hair removed and lightly sanded, but the natural textures still show up in the grain - the creases, wrinkles, insect bites, and stretch marks.
This kind of leather gets colored and dyed by hand in the workshop. In some workshops, that means airbrushing, sometimes with acrylic paints, but in our workshop that means rubbing in oil dye by hand. Very few workshops do this kind of work by hand anymore.
We see it as the difference between oil-finished natural wood versus painted wood. We love to see the mellow luster of real wood grain, enhanced by a little bit of oil, and likewise that's how we treat our leather. Many believe this is the highest form leather can take - a high quality leather rubbed to a natural, lustrous shine.
The leather has a smooth front side and a napped backside, which soaks up dye. Because the leather comes in its natural state, the edges need to be specially treated as well as the surface to give the leather a homogenous look. So, for example, if the surface is dyed black, then the sides/edges would also need to be dyed black.
Once the dye has dried, we seal it in with a clear natural coat to "set" the dye. None of these finishes involve plastics or brushes, but are rubbed in by hand with rags and have short, simple ingredient lists.
Pre-dyed and finished leathers
Full grain vegetable-tanned "bridle leather"
Bridle leather and super-thick skirt leather is the same thing as full grain vegetable-tanned cowhide, but the tannery takes it a step further and gives the leather a strong, industrial treatment of dyes, oils, and waxes so the leather is as tough as it can get. Designed for equestrian gear (horse bridles and reins, etc), this leather is as tough as it gets and perfect for any product that is going to get muddy or mucky or salty.
Because it is infused with copious waxes and oils to stand up to the elements, and because waxes prevent the penetration of dye, the tannery dyes it in-house and bridle leather comes to the craftsman pre-dyed. The dye is usually applied with a drum-dyeing process by tumbling the hides with dyes in a drum. This leather arrives ready to cut and assemble.
This treatment enhances the leather's weatherproofness and durability in a way that can't be done by a craftsman in a workshop, but it means that the color is a flat, homogenous, matte color. It's missing the gloss and character of hand-rubbed oil dye, and it's only available in a limited number of natural colors.
Another benefit to bridle leather is both the grain side and flesh side are treated with dyes, oils, and waxes, so it looks the same on both sides. This is a good choice for projects that need to look finished on both sides, and that will provide a smooth, comfortable feel for a horse or other pack animal.
Note: Another term commonly used, "English Bridle Leather," refers to the appellation, meaning bridle leather that is tanned in England.
Top grain vegetable-tanned and mixed-tanned leathers
There is a huge variety of looks and finishes in top grain leathers and mixed tanning leathers (leathers tanned with both mineral- and vegetable-tanning). Many of these are sold as "vegetable-tanned" leather.
Color treatment is one of the first considerations:
Among grain leathers there are three general categories: aniline, semi-aniline, and protected. Aniline leathers are processed using soluble dyes to maintain their natural markings and texture, and do not have a surface pigment or coating. This makes them the most natural-looking leathers, but also more susceptible to scratching, fading and staining.  Semi-aniline leathers (like most bridle leathers) are treated with pigments and thus conceal more blemishes and have a more uniform coating, as well as staying more protected. Protected leathers have a non-leather coating sprayed or attached to the leather as a protectant.

Best Leather
Many of the color and printing treatments applied to top grain vegetable-tanned leather have the effect of mimicking the look of full grain vegetable-tanned leather, or another leather entirely, such as with the imprint of a different animal's hide markings, like faux crocodile.
Mineral-tanned leathers (chrome-tanned, garment leather)
Garment leatheris one of the most commonly-available chrome-tanned leathers, but it is actually a top grain leather with a sanded, homogenous surface and usually finished in the tannery with dyes, sometimes with textures, and with any of a number of polymers and coatings to enhance its durability.
The dye penetrates through the entire thickness of the leather, but it is not colorfast: although colors stay intact in wet conditions, they can fade in the sun. This is the type of leather usually used in shoes, purses, and clothing. It performs best in typically indoor applications.
But, manufacturers can apply all kinds of treatments to leather to make it look exactly how they want. For example, nubuck is a top grain leather with a sanded finishing that makes it soft like suede. Deerskin, pigskin, and sheepskin, and goatskin are usually mineral-tanned and dyed and finished in the tanneries as well.
Lesson #6 at the Walnut Workshop
We only use bridle leather for a few products in our studio, like the Bicycle Mud Flaps. Bridle leather is full grain vegetable-tanned cowhide that has been infused with extra waxes at the tannery. Designed for horse bridles and reins, it provides maximum protection and durability in wet and mucky environments.
Next Lesson
Now that our full grain vegetable-tanned cowhide is in the workshop and finished, it's ready to be turned into products. In the next posts we'll discuss how we turn those finished hides into products.
---
We're writing a leather learning series, and this is the sixth of eleven posts. In the series, we go through the different kinds of leather and the different ways it is tanned and finished, then talk about how leather as a raw material is turned into products, how to tell good leather products in the store, how those products should be maintained, and what ethical leather choices are.
Subscribe to our email list to get notified of more posts like these: