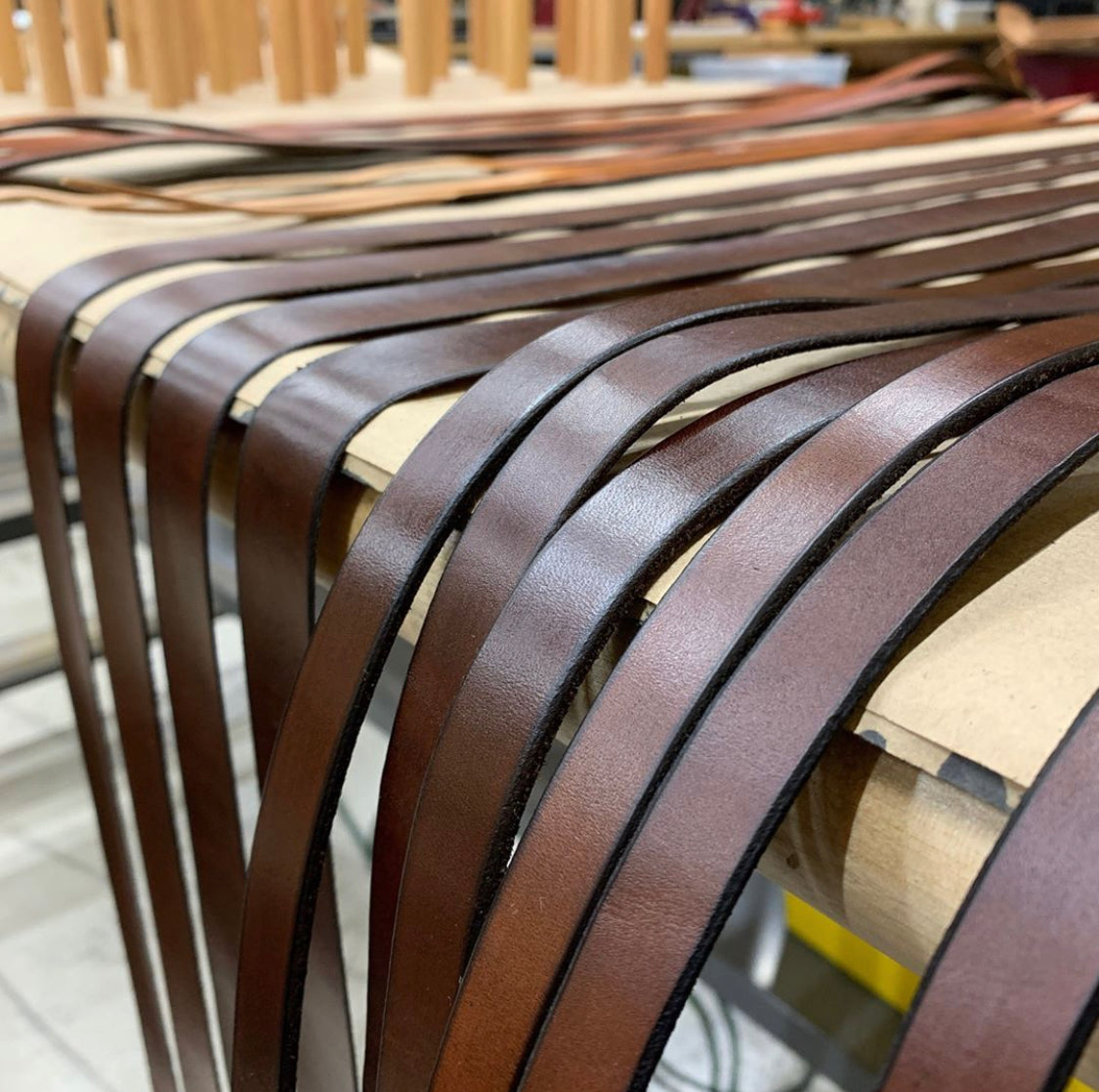 In this post, we'll explain and show the differences between our four leather colors: Natural, Honey, Dark Brown, and Black.
About Our Four Leather Colors
The leather we use for our handles comes to us as Natural vegetable-tanned leather, and we hand-rub old-fashioned oil dyes into the surface to make the colors of Honey, Dark Brown, and Black.
The origin of these color choices was actually to match Brooks bicycle saddles, as we started our business making primarily leather bicycle accessories. Over time, Brooks has expanded its color selection and material palette, and we've expanded our product selection far beyond bicycle accessories.
Unlike garment leather, we cannot dye our leather in non-earth-tone colors like gray or pink (why is that?). We've stayed with these four colors because they represent a nice spectrum of natural tones, and a clear contrast with each other.
Natural Leather
Natural is the un-dyed, natural color of the hide. We add a simple protective topcoat, which only darkens it slightly. It is the most natural product as well as the most natural color.
Unlike our oil-dyed colors, Natural is more susceptible to darkening ("sun-tanning) in UV light. If placed in a sunny window undisturbed for as little as even a few hours, it can darken from a dark cream to a light brown color.
Hand-rubbed Oil-Dyed Leather Colors
Hand-rubbing in oil dye to the surface of natural, vegetable-tanned leather is a skill that's not often practiced these days in leathercrafting. Most leather isn't even quality enough to accept oil dye, with too many scars or mars or surface sanding. Those who don't practice hand-dying even question its value -- but we don't.
Oil dye "stains" the leather surface, allowing the natural grain to show through, just like staining a fine-grained wood instead of painting. Our leather is much too fine to coat with an impenetrable layer of paint. It is a natural product that deserves a natural finish, and as countless customers have told us after over a decade in business, as soon as they get it in their hands, they know the difference. The the sturdy, quality leather that holds up to gravity on its own, the smooth surface you can't stop touching, the mellow luster that almost glows.
Honey Leather
Honey is a unique color worth discussing: it's also been dubbed "cognac" and "saddle tan". Our "Honey" is a traditional equestrian saddle leather color, a light to medium brown with a hint of orange/red. It is unique amongst our leather colors, and is stunning when paired with the opposite side of the color wheel, blues/greens.
Dark Brown Leather
There are many shades of brown in leather craft and leather dyes, but our Dark Brown is a deep, rich and classic dark brown, like an unwrapped bar of dark chocolate.
Black Leather
In dyeing terms, Black is a straightforward, pure, binary color. Interestingly, unlike Natural, Honey, and Dark Brown, the inky black color can actually fade a little with constant bright UV light.
This photo of all four colors taken together outdoors in natural sunlight is the most true representation we have of the colors as they actually look in person:
Leather is a natural material, and each hide's base color can vary just a little, and this can affect the final color. That natural color variation is what makes our leather so beautiful: just like natural wood grain, each piece is unique.
We sell leather samples / color swatches so customers can see them in person themselves before they buy. These swatches are up-cycled pieces from our Bicycle Barrel Bags, and can be used as a beautiful drink coaster.